A strong back-to-the-basics statement!
Sonata Arcitca released their "Acoustic Adventures Volume One" album only recently. It is an emotional, sensitive and somewhat even fragile though powerful selection of neatly re-interpreted pieces of their vast work. Sonata Arctica have presented acoustic songs on their tours over many years already. Thus this album is a natural step. Speaking with Elias Viljanen, Sonata Arctica's guitarist revealed quite some insights into their production specifics but also a glimpse on their ongoing work.
Coming up with an acoustic album in 2022 then again is way more than just re-issuing your previous work. It is a sensitive statement against fast-track life cycles in the music industries and the insane overload of backing tracks on metal stages.  Sonata Arctica reply in their very acoustic fashion to developments in the metal business that begun many years ahead of the recent crisis that however put those under the looking glass.
In summary this is a review of the Sonata's "Acoustic Adventures Volume One" spiced with some statements of Elias Viljanen and additionally it is a discussion the role of the album as back-to-the-basics statement in the broader context of music industrialisation.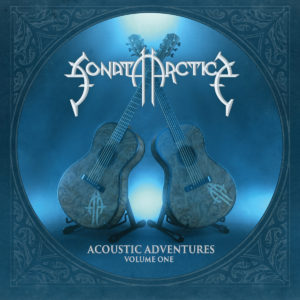 "Acoustic Adventures Volume One"
"The Rest Of The Sun Belongs To Me"
Swingy and lightly as a sunny spring morning underlined by 'dark roast chocolate scented coffee' bass, "The Rest Of The Sun Belongs To Me" opens the album. A calm, relaxed drum pulse leads you through the song abundant of luxury acoustic guitar work, carrying the main motif with the rhythm guitar but even more exotic for example flamenco-like solo passages. And yet it is so very undoubtedly Sonata Arctica. Is it all due to unique Tony Kakko's voice? Yes and no. Certainly his voice as his technique are an essential of the Sonata Arctica brandmark. But no, it is more than that. Neither a different tempo nor the acoustic arrangement can cloud the all-over coherence with the complete work of their more than 20 years of band history.
Sonata Arctica have long loved to play with their arrangements. They released for example with their album "Days Of The Grays" in 2009 already a bonus consisting of orchestral versions of the entire album. On stage, they have a reputation for vivid shows filled with goose-bump live arrangements.
New "Flag In The Ground"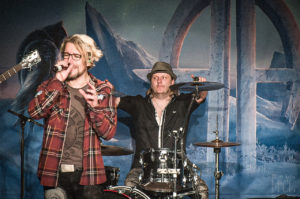 Two aspects strike the ear to have changed more than others in these acoustic versions. Tommy Portimo's usually speed-dominated drumming put too often even slower Sonata serenates in to an air of sweaty haste. Now his drumming has massively slowed and piped down. Yet, his drums and percussions add to high emotionality though by much more sensitive drum lines, fills and beats.
The other aspect is that the acoustic versions provide a lot more space for Pasi Kauppinen's versatile, diverse bass play. While classically in Sonata Arctica's songs the bass play is more felt than heard the in general less packed arrangements leave more opportunities to shine for each of the instruments.
"For The Sake Of Revenge"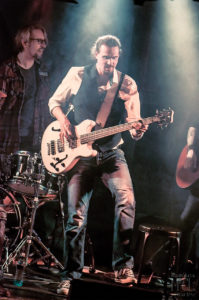 Low bowstrings, soft vocals and carefully placed e-piano chords reinvent the piece while keeping the powerful breaks. There is few space for the electric guitar here as on the entire album, however, Elias points out in our interview that there are a couple of passages in which he still played electric guitar. He tells me that he learned playing guitar on an acoustic guitar and only later grabbed its electric sister. Thus the acoustic adventures to him are more a back to his roots.
"Little Less Understanding"
… comes with a Hammond-and-banjo carried intro and as such a new atmosphere in the realms of their 'Arctic' symphonies. The arrangements draw an image of a truck stop diner in the Middle West. It could be the song played by the music box in a dining scene of "Convoy" (trucker road movie, 1978 with Kris Kristoffersen, Ali MacGraw and Ernest Borgnine). Take a seat on one of those cosy red covered benches, sip a mug of coffee to your plate with scrambled eggs while outside the wind blows the cloud of dust over the road.
Banjo? Yes. Learning the banjo was Elias' way to make best use of the lone time in the first pandemic pause, he tells me. He has always been used to spend quite some time on his own but not in the dimension of the past two years, of course, he adds. When then it was possible to meet again and he met his band mates in the studio he made clear there the banjo was to enter the album.
"Alone In Heaven"
There were a couple of things Sonata Arctica tried while rearranging their songs but which did not work, as Henrik Klingenberg aka Henkka is quoted in the album promo. But Elias cannot think of any funny tale to tell about it. Quite the opposite, it worked out really well, Elias says. It felt sort of naturally and was quite easy even. They worked individually on selecting and rearranging songs from their vast repertoire. Then they met to select and finalize the arrangements.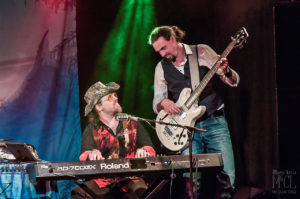 Their aim, Elias points out, was to achieve very atmospheric acoustic songs. They put some effort into trying to keep the atmosphere of the original versions. Funny songs should remain funny songs. And they did laugh a lot while recording. Eventually the basic atmosphere of some songs changed anyway. But the soul of the songs remained, Elias explains.
"Alone in Heaven" makes a good example. A heavenly intro from sweetest piano and soft guitar chords make a cosy, fluffy pillow until the one word hits: Alone!
The atmosphere of the piece differs remarkably to the original version. The contrast of seductive illusion and the bare truth is rougher. The story is told with more basic means and yet the soul of the song remains the same: A bit of blinking view on the idea of how stupid it was to end up all alone in heaven when all your friends burn (their throats with strong brands) in infernal depths?
The Rule Of "The Misery"
As If The World Was(n't) Ending
Such infernal depths figuratively spoken, the entire event industries have experienced throughout and sped up by SARS-CoV2-induced pandemic. Repeatedly, long months without any concerts, summers with few if at all festivals and the never-ending labor of cancelling, postponing and reorganising tours. Hopes have been shattered as often as tours had to be re-planned. This virus with asteroid-like destructive power hit the metal world in a period of already ongoing fundamental changes.
Already before the world surrendered to the virus, for many years album sales (digital and physical) hardly balanced the production expenses. Although economic crisis hit genres beyond the metal realm notably harder, it still had a dramatic impact here as well. Over and over not even the rather big fish and thus the labels made an actual income from album sales. Thus it had become increasingly difficult to make a living – on all levels from musicians to management – from music in general not to speak of from a more or less subculture genre such as metal. As a cynical side effect metal albums have more often made it among the top sellers in the charts all over. This is after all merely a consequence of the thriving global music market so that the little less effected metal genre now has achieved a relatively larger share without actually growing more popular.
Facing The "Reckoning Nights"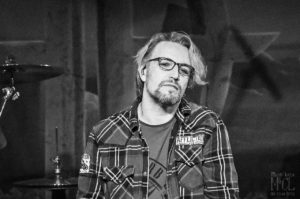 In reply, bands have tried to play more live gigs, the number of (metal) festivals grew. Mind how many rather small festivals have been presenting big names! Bands have toured more often and packed those tours with more gigs. But at the same time, the headcounts per show widely dropped. As the evolution of mobile and digital music consume sped up, and while video publishing platforms grew tremendously, the ticket sales for live events declined. Merch sales (previously only on site, nowadays digital, too) could polish the balance but only new albums seemed to pull a sufficient crowd. Accordingly the frequency of releasing music and touring tightened up or figuratively the life span of an album (writing, producing, releasing, playing) shortened. Half of the songs of an album usually doesn't even make it on stage at all and the lion share of those played on one tour will vanish from the set list of the following tour. What a waste!
Naturally there has always been a vast number of bands whose members have always made their living from day jobs. Then touring has always been limited to very short slots or weekend gigs. Still they will only get a deal supporting their releases, promotion and touring if those who provide just this can make a living from their services.  
"Paid In Full"?
Before 2020, there was an insane abundance of new releases, touring bands and festivals competing for margins that have decreased dramatically approximately since mobile phones were equipped with cameras. How would that kick back on writing, arranging and producing music? Certainly neither of if can benefit from such a pressure spiral. And why going through all this only to play the music for two years at maximum before new material is demanded? Then the virus added its own dynamic booster. Promoting by playing on stage was mostly impossible in 2020/2021. As a pandemic side effect the general interest in music and culture declined as too many faced more essential threats consuming their time and energy. A challenging situation that ironically however provided plenty of time to think of new strategies. The lion share of bands replied by timing their release of a new material with likely touring opportunities. But Sonata Arctica came up with "Acoustic Adventures Volume One".
"Picturing The Past" to Master the Future
Let's jump back in time for a moment.
Back to 2012, more precisely a foggy and cold November night in Aschaffenburg that asks for a decent concert to warm the soul. Sonata would play and I had never heard of their support band before, Battle Beast – but, hey they did set the club aflame!  Perhaps they had even stolen the show from Sonata Arctica that night if it wasn't for Sonata's unexpected but brilliant acoustic intermezzo. Unfortunately I cannot recall which of their own songs they played but this version of the Bon Jovi classic "Wanted Dead Or Alive" was a killer. Tommy sat on his wooden box giving the rhythm, Tony and Elias picked on their acoustic guitars, Marko Paasikoski on his bass and Henkka … he sat in their 'bonfire circle' and delivered some low, slightly harsh vocals of goose-bump quality I could never forget. Why on Earth does this man not bring a hell lot more of that? Although these unplugged versions came newly arranged, sounded fresh and still matched the Sonata Arctica atmosphere. The crowd demanded more …
The Power Of "Replica"
Elias also mentions that Sonata Arctica are working on a second acoustic album already. This is good news to me. No doubt, a set of new songs is always welcome. But considering the effort and expenses it takes to write, produce, release and promote a single song, playing most songs only on one single tour it seems an incredible waste. Anneke van Giersbergen (read the full interview here) once said, that each song is different each time is it played and that a song has a life. But nowadays the majority of the audience expects a live performance to present an exact copy of the album version of the songs. This retorting of album songs on stage often requires backing tracks as the number of tracks stacked in a songs exceeds the number of instruments on stage by far even if there are no such obvious elements as choirs, or orchestrations. While in some true-metal communities the appearance of keyboards in metal is still questioned at all, excessive backing tracks are vital for the live shows for example of all the symphonic metal subgenres. This contradicts the what-you-see-is-what-you-get attitude telling metal from the mainstream for many of us.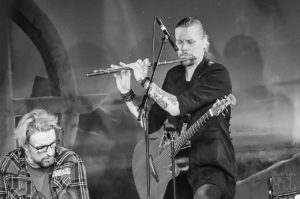 Is it really necessary to 'copy & paste' the album version on stage? Improvisation and re-interpretation of their own songs on stage have made a multi-million seller such as Bruce Springsteen what he is. It is an art of itself, is an expression of creativity, moods and circumstances, too. I had the pleasure to experience five concerts of the Finnish Heavy Metal veterans Tarot in 2010 to 2012 playing their ballad "Tides" each time. And each time it was remarkably different. Sonata Arctica a neat set of classics demanded by their fans on each gig over the decades. One of them is "Replica". This song can sound rebellious and gut stirring or sensitive and a five-minute, goose-bumps-all-over ballad.
By coming up with "Acoustic Adventures Volume One" and working on a second acoustic album already Sonata Arctica acknowledge and celebrate their own songs. They pay respect to their own previous creative achievements by granting them a second, a third and fourth life on stage and now even a rebirth. Reduced to the essential instruments the Acoustic Adventures shines all the brighter in this digitally dominated time.
Heroic "Black Sheep" From Finland
We are not Iron Maiden, we're not from England. We are SONATA, we come from Finland (from "Black Sheep" live lyrics)
The "Acoustic Adventures Volume One" differ not only in style but also in the way it was recorded differently than it is common these days. Sonata Arctica recorded it live. I asked Elias to describe their recording process.
He sees not much of a difference to recording previous Sonata Arctica albums. They play the songs in the studio all together and record them. Then they play them individually and perhaps correct or fine tune here and there. That's it. And that's more or less what it always has been. Once the music is recorded, Tony records the vocals.
I wonder if and how the pandemic might have affected the band dynamics. Dealing with hardships is a highly individual matter and as such affecting each group uniquely. Elias explains that the band has always been discussing very vividly on their songs and arrangements, perhaps even fighting. But they have always been close enough with each other and to the object that those arguments pushed forward their music so that in the end they have always been convinced by the result. Intensive discussions, criticising and even pushing each other to the edge has never become a personal issue. He says, it is what friends do.
Let's walk over the bridge Elias offers here and explore Sonata Arctica's dynamics with a bit of fun question.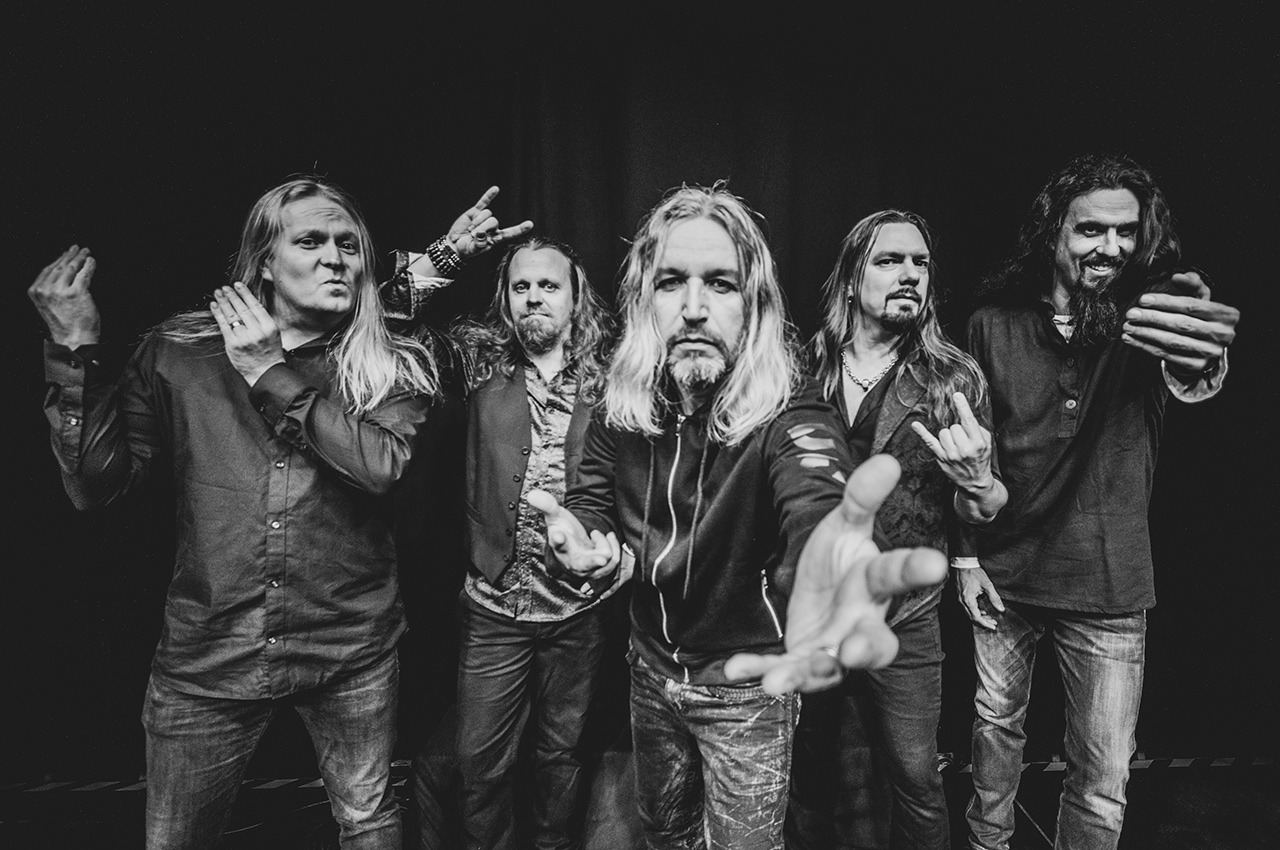 "Wolf & Rav…" *erase* … Sloth, Buffalos and Meerkats
Elias is asked to compare himself and his band friends with animals to describe how energetic each of them is. A buffalo is energetic, right? And a meerkat is energetic too, though entirely different. Even a sloth is energetic in its very own, highly efficient fashion. Thus, everybody is energetic. While meerkats run around all day and supposedly even all night, too, a buffalo needs a good reason to run, then however you better not stand it its way. And a sloth; it is the unmatched master of efficiency and avoids carefully any waste of precious energy. Not a single finger is moved without a damn good reason.
Elias has listened carefully until the buffalo-type is described. His hand shows up and he frowns in self-recognition. "So that's you? The buffalo?" I ask. "Yeah", he admits. Once the final type, the meerkats are described an automatic "Tony" flows from Elias's mouth. 'No surprise' I think imagining him on stage where his batteries seem never to run empty.  But what about the other three?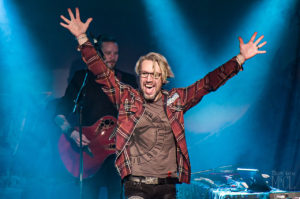 "What was the first again?" Elias asks, thinks a moment and suggests Tommy might be a sloth. Thinking again Tommy might just as much be buffalo. Or maybe both? That leaves Hendrik and Pasi. "Henkka is like me …. And Pasi, yeah, Pasi is the third. Like Tony."
Although this question is naturally most of all fun, Elias' replies reveal rather a balance of energetic temper and composure in the band. It might be one reason why emotional discussions in the studio cause no wounds but result in ambient songs full of soul.
The Rest Of The Sun Belongs To Them!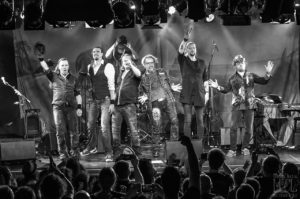 Life is all but a tale told in Sonata Arctica song titles. But Sonata Arctica's "Acoustic Adventures Volume One" is a more than a wonderful collection of highly emotional songs perfectly re-arranged in acoustic versions. It is a statement. It is a statement against the overload of backing tracks on stage. Furthermore it is a sound strategy to face the fast-track cycle music industries.
Selling a song in one version and being limited to exactly this version is more or less like wearing the same t-shirt for roughly two years, which was usually approximately the release of the next album. 
Sonata Arctica have stepped out of that hamster wheel to  underline their creative independence by reinventing their own songs, approaching them from a new angle and make room for improvisation!
Thank you for this amazing album and even more an essential landmark in roaring turmoil!
---
!
Visit Sonata Arctica's
homepage and official webstore 
Promo photo and album cover art both by Janne Pitkänen. All other photos by Ms Cesar Little – taken at Colos-Saal/Aschaffenburg March 2019.