Today we review the newest release of Italian Symphonic Metalists Temperance. "Hermitage – Daruma's Eyes Pt. 2" contains 14 songs. They tell the story of the protagonist Victor catapulted into the magical village Hermitage by finding the Japanese doll Daruma. It is up to you to discover the whole story, here are album  and songs:
Hermitage – Daruma's Eyes Pt. 2
Daruma
It is the first song of the album and name of the doll, a female choir at the beginning followed by storytelling male lead vocals. Epic Daruma has everything, a good opener should have and invites to listen to the next song.
Glorious
This song continues the bloodline like a brother to a sister. Again we listen to male lead vocals which are supported by a female choir. A very symphonic song if you ask me. I wonder how it would sound performed live as a sing-along with the crowd.
A Hero Reborn
Guitar chords and piano lead into a melodic guitar solo before the song speeds up. Again male vocals take over, this time as a duet, in the background remains the piano. Together they build up the tension required for A Hero Reborn.
Welcome to Hermitage
I remember well, there once was a band which welcomed us to the jungle, now we are very Welcome To Hermitage, the village of the album title. For a change, female voices take the lead to be supported by male vocals. To me it is a great tune, I can only invite you to find out, who sings which part of it. I heard four different vocalists, and you?
No Return
It is a very typical song for epic symphonic metal and Temperance. "Typical" doesn't mean I don't like it. It just sounds like a song I heard before but then it still sounds differently. Once again it is a song which should be played live and celebrated with the audience.
In Search of Gold
After some up tempo songs, we become a bit slower, almost like a ballad. Ballads are not uncommon in symphonic metal anyway so it deserves its place. Male and female vocals interact with each other. It certainly is a song for a warrior, not only a searcher and even more, a song for the winner who takes it all, all the gold.
Join Me
The storyteller of the album opens this song. Female vocals follow, I think it might be Fabienne Erni or maybe it is Laura Fella? Join me and check it out yourself if you agree with me or not! By the way, the guitar work of this song is exceptionally good too.
Trust no one but You
A mixed choir rules the song. How wonderful it is! And it is fast! The drums almost pass by the vocalists. Synths and guitars can barely hold them back until they give up and accept the challenge. Who wins the race?
Darkness is just a Drawing
Melodic, epic, symphonic, how can I describe the beginning of this song better? Do you have an idea? It leads into male vocals and the heavenly female choir which might light up the darkness. Darkness is no cloud in your brain, it is just a drawing anyway so wipe it out with this gem.
Into the Void
What a title! Into the void can stand for so many things, visions, ideas, journeys, adventures! A choir and fine guitar work rule the void from the first second on. A mixed duet follows. It leads us through fire, hell, high water, thunder and rain to discover what is behind the void. It is difficult to judge a symphonic metal as heavy, but this trip Into The Void is "the heavy track" of the album. By far my absolute favourite.
Brand new Start
Once again, the storyteller gives some explanations. Guitar, drums and bass take over for a short moment before piano and violins underline the male vocals. Then the song speeds up, the other instruments take over again. It is very storytelling and worth more than one listening while reading the lyrics.
Where we Belong
Let's try to find it out in barely three sentimental minutes. Nothing but violins, piano and two different male vocals are heard as if every thought is very doubtful. The question is, where do we belong? I am still searching for the answer! Do you know it?
Full of Memories
Storyteller, drums and a choir of angels lead to male vocals. Once again, the song sounds very epic. It sounds like we are almost at the end of the story. We are Full of Memories of what has happened in the previous twelve songs, or better, little stories. Like a summary of a life before it ends, good or bad, it leads to the final track.
Cliff
The longest song comes last and it starts slow. Perfect male vocals and a piano seem to be a trick which works here again. Both build up the tension for the grand finale. And it comes, I can assure you, it comes. And the well-known storyteller closes the album with the words "find the key to their doom", and this is the only hint I give you regarding the wonderful lyrics.
A Renaissance
Rarely have I listened to such an epic and storytelling album as "Hermitage – Daruma's Eyes Pt. 2". It stands in a tradition of albums which I thought, had already been forgotten. Too long, too intellectual, too demanding, too whatever for a generation of hipsters, one hit wonders and short term success for one little song. This is the rebirth of epic concept albums. This is not "an album", this is a story, a musical, it could even be a film.
And a vision
I have the pictures and visions right in my mind. I could tell you about these visions and pictures, sure I could. But I won't. Maybe your visions will be different from mine and I don't want to influence you in this case. I can only influence you with my recommendation to give the album more than just a listen, sit down in your armchair, read the lyrics and celebrate the renaissance of the genre. I just wonder, where Pt. 1 is, do you know it? I have interviewed vocalist/guitarist Marco Pastorino a few days after the album release, read the interview here and maybe you will find the answer.


Short facts:
Release Date: 20.10.2023
Label: Napalm Records
Genre: Melodic Symphonic Metal
TEMPERANCE are:
Kristin Starkey – Vocals
Michele Guaitoli – Vocals
Marco Pastorino – Guitars & Vocals
Luca Negro – Bass Guitar
Marco Sacchetto – Drums
Guest musicians:
Arjen Lucassen (Ayreon)
Alessandro Conti (Twilight Force)
Fabienne Erni (Eluveitie, Illumishade)
Laura Fella (Faun)
Photo Credit: Andrea Falaschi
Hermitage – Daruma's Eyes Pt. 2
Daruma
Glorious
A Hero Reborn
Welcome to Hermitage
No Return
In Search of Gold
Join Me
Trust no one but You
Darkness is just a Drawing
Into the Void
Brand new Start
Where we Belong
Full of Memories
Cliff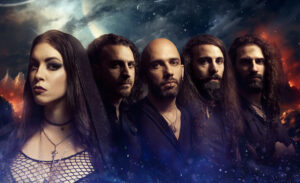 Save the dates:
04.11.2023 Brainstorm Fest – Apeldoorn – Netherlands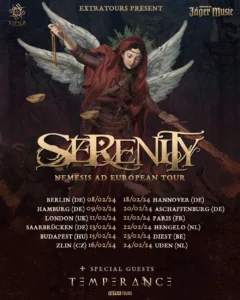 ---
Online:
Temperance
Please buy merch and physical music or downloads  from the bands official sources and don't stream music for free because it steals your artists' income
---
proof reading by DerminBoad