Drummers often seem to be the hardly perceived figure in the background of our metal perception. But what is metal music without drums and a good drummer? In a series of five sets we present four drummers each, illuminating their personality, technique and gear. Let's begin with set No 1:
1994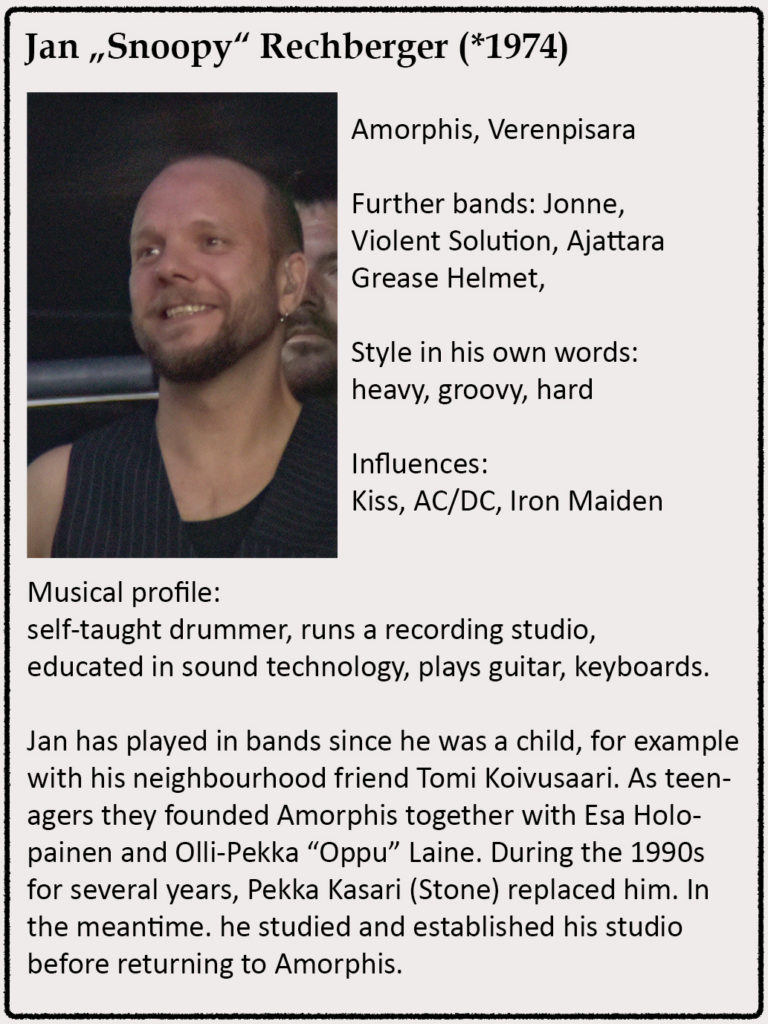 At the turn of the 1980s to the 1990s, many metal bands that we now know as veterans had just come into the scene. New recording technology along with the rising number of home computer systems opened new opportunities for bands with low budgets. Evolution and branching of genres sped up. No surprise that quite a few critical albums were released in succession of these developments.
Thus, for metal, the year of 1994 was an essential one; namely for the evolution of Death and Black Metal branching into the many sub-genres,  we have today.
Bands like Immortal and Paradise Lost were a big names already and played an active role in this evolution. Both had begun with classical Death Metal, Paradise Lost then released with their second album "Gothic" the foundation of a whole new subgenre but also evolved their strong Doom motives further on. More stylistic landmarks for these evolution came with the "Tales From The Thousand Lakes" by Amorphis and the 'double pack' (as released within only eight months) consisting of "Dark Medieval Times" and "The Shadowthrone" by Satyricon (remixed and remastered reissues of both, on May 28, 2021).
For the Norwegian Black Metal pioneers Satyricon, "Dark Medieval Times" was their first full-length album. It named their former session drummer, Frost aka Kjetil-Vidar Haraldstad, a full-time member. He had just grown into the band at some point, he remembers. There was no particular moment, more of a natural evolution.
The strong progressive elements have told "Tales of the Thousand Lakes" (usually referred to as "Tales") from earlier Amorphis' work and granted Jan Rechberger (often called "Snoopy") and his bandmates their world-wide breakthrough. Paradise Lost again was one important musical influence of early Amorphis. Their record deal happened because of a song their guitarist/vocalist Tomi Koivusaari had brought from his former band, Abhorrence. This band, however, had split by the time the deal was offered. But, Abhorrence never ceased to receive requests to play shows and followed this call roughly 20 years later. They teamed up in the original line up but needed a new drummer. This (in the beginning) was Rainer Tuomikanto, who we are going to meet again, later. He soon left the fledgling band though, and young Waltteri Väyrynen (Walt), born 1994, followed. He had just become the drummer of one of his teenage hero bands: Paradise Lost. Around that time Abbath quit Immortal to come up with his self-named band. In early 2018, he appointed a young drummer: Ukri Suvilehto. What seemed surprising as Ukri had not played in big band before, might ultimately be the result of long-term professional self-marketing. He has run a most successful Youtube channel with more than 1 million views in 2012 after getting endorsed by a major drum company in 2011. This again happened because George Kollias of The Nile had taken notice of Ukri's channel who was still a teenager! Ukri was born in 1994.
Two Generations Of Drummers
The four represent two generations of drummers. Funny enough, the "old men" descend from rather southern parts of their Nordic homelands, while the 'boys' come from far more northern parts. The 'old men' also play in bands originating from their home countries, while the boys make a major share from playing in foreign bands. Ukri and Walt have studied and been taught by teachers for several years, while Frost and Jan mostly taught themselves. The older generation has been known by alias and nicknames. "Snoopy" is a nickname that goes all the way back to Jan's childhood. "Frost", however, was searching for an alias that fit the band, the music and the atmosphere when he joined Satyricon.
Walt was inspired by his mother's love for metal, which woke the passion for drumming. Listening to rock and metal, young Jan wanted to play music himself. Ukri most of all wanted to play in a band and waited to be old enough to join his father's band classes. That way he could play with his older brother and cousin in their band.
Jan has been in bands since primary school days with neighbourhood friends, such as Tomi Koivusaari. Frost began playing a good deal later but driven by the same idea: playing in a band.
Ukri's and Jan's fathers, music professionals themselves, supported their sons by teaching them basics. Both began playing instruments rather early and both began by learning guitar. Furthermore, they have a formal education in more technical aspects of music, making them excellent studio workers, too. When Amorphis worked on their "Tales" album, one of their most important musical influences came from classic progressive rock, such as Pink Floyd, and Finnish bands, such as Kingston Wall and Wigwam. Interestingly, "Division Bell" released in 1994 by Pink Floyd, is also one of Ukri Suvilehto's favourite albums, as he tells me.