I had some really great opportunities this summer, and I hope you're not getting bored by me pointing out yet again that I met an outstanding personality. But, shit, they are! Each of them! And each for different reason!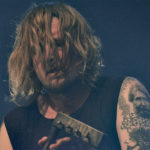 So perhaps some might remember the show of Amorphis in late summer 2016 during the Helsinki Festival at Huvilatelta where they performed a unique gig headed: An evening with friends. One of these friends was Pekko Käppi, who is mastering a medieval instrument called jouhikko. The combination of the progressive Amorphis songs with this medieval instrument was no less than perfect harmony.
Digging a bit into the music of Pekko Käppi you will see in an instant that it is hardly to be described in genres or categories, if not as such like outstanding, unique or very own. It has so many shades and flavours it's hard for me to put into appropriate words. So I don't even try but suggest: listen to it yourself.
As he and his band had a show at Tuska 2017 I took the opportunity to meet him and learn more about his background, his instrument and attitude. Let's meet Pekko Käppi. 
---
---
Laughing I thank for the interview as does Pekko, also still smiling at the idea of elephants on stage with him.
Walking to meet my friends I think about his ideas of illustrating life as colourful and weird and full of contrasts as it is.
And then he seems to know or at least not to accept any boundaries in music. And even this illustrates life. And it reflects the openness I have met so often this year – the openness of the metal community that I am so grateful for all the more as discrimination is rising all everywhere.
Personally, I find Pekko very special – in the best of senses. It is not the first time I met a person who had a hard time as kid or teenager for being bullied by small-minded people but ends up being an outstanding artist. Sometimes it even seems that some kind of outcast childhood provides a fertile ground for prosperous arts. Even more I think that mainstream and outstanding arts hardly go together. And I find it all the more remarkable that those being called misfit or freak as child as adult become an artist are adored by the audience for being different from the mainstream.
More photos from their Tuska show.
---
Repost from obscuro.cz, minor edits.