There are a lot of different festivals across Europe. Some are as small as a family gathering, some are bigger than a small town. Some only happen once, dearly missed, while some seem to outlive eternity and are even called holy ground at some point. What makes every one of those events unique though, is their individual atmosphere. Location, setting, music and people factor in on a distinguishable vibe. A vibe, that makes a festival successful, highly frequented and surviving even tough times.
One such festival is the Metalacker Tennenbronn Open Air. When it started back in 2012 it was still a very small local festival with approximately 600 people and a small lineup, already including rising stars Kissin' Dynamite, though. Ten years later and the Metalacker has become ten times as large and still has never missed a shot when it comes to providing us with a fantastic lineup. Even after the hardship of two years of pandemic cancellations, the team seems to be coming back stronger than ever. With top acts Sonata Arctica, Rage and Lord Of The Lost they have one of if not the best billing in the history of that festival.
Follow the riffs deep into the woods
But before we dive deeper into the fantastic concerts this year, let's circle back to that vibe once again. The Metalacker (German for metal acre) is located on a field near Tennenbronn, a small place in the middle of the Black Forrest in south-western Germany. Everyone who's been to the Black Forrest before probably knows, that it is not exactly pitch black but rather a dark shade of green, the green of characteristic trees like the silver fir. The exact trees that seem to guard the festival site. As you drive through small roads and the dark trees are closing in on you, you will eventually end up at a remote field in the middle of nowhere. If you feel lost, just drive another minute and you're basically there. But make no mistake, what feels like an abandoned place in the woods is exactly where you want to be. A secret place, hidden in an iconic landscape and harbouring actual blackness, the familiar blackness of the passionate metal community being ready to party. Given the name of this world famous area it seems almost obvious, that the thousands of dark clad music enthusiasts would eventually swarm there to have the time of their lives.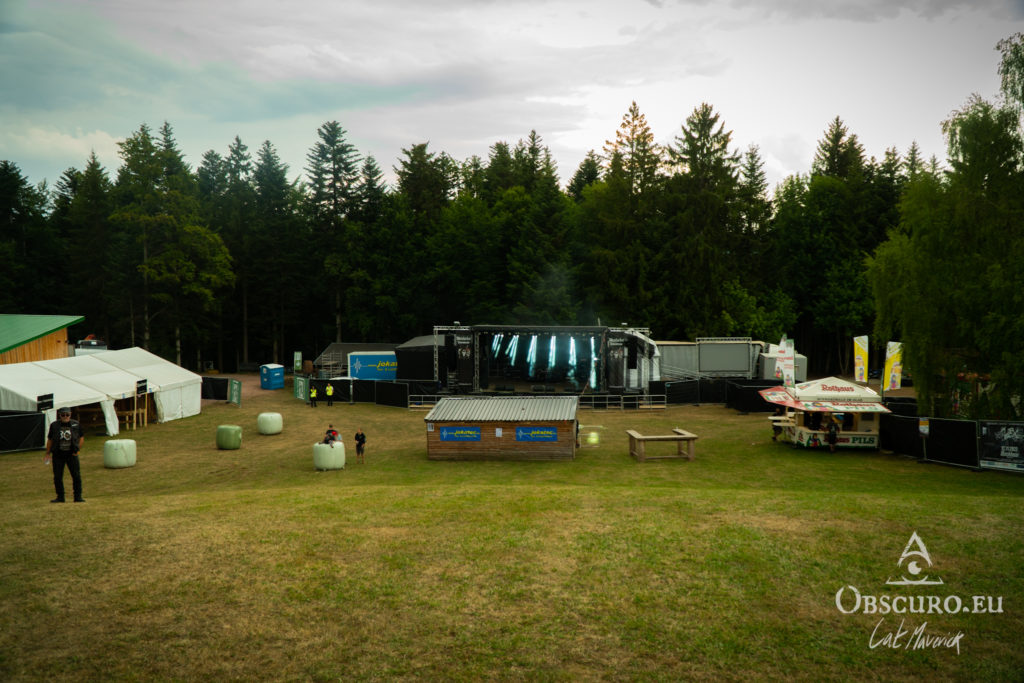 To a stage woven into the green hillside landscape
Behind a small wooden den with a ticket salesperson lies a fantastic location to enjoy a live show. Now you might ask yourself "Isn't any location fantastic for a live show?" and to some degree you are definitely right. This one has a rare advantage which makes it all the more interesting, though. If, after entering the infield, you were able to walk along on thin air in a straight line, you'd probably end up standing on top of the stage rather than in front of it, as the infield descends towards the stage quite a bit. It might seem like a disadvantage at first and surely, the later the evening the more people you can see struggling with climbing back up to the entrance and exit to the campground. That seems to be not so much related to the steep ascent but rather to the beer or two they had at that point in time. What makes up thousandfold for this forced fitness program is the fact though, that in such a location everyone is able to have a great view of the stage.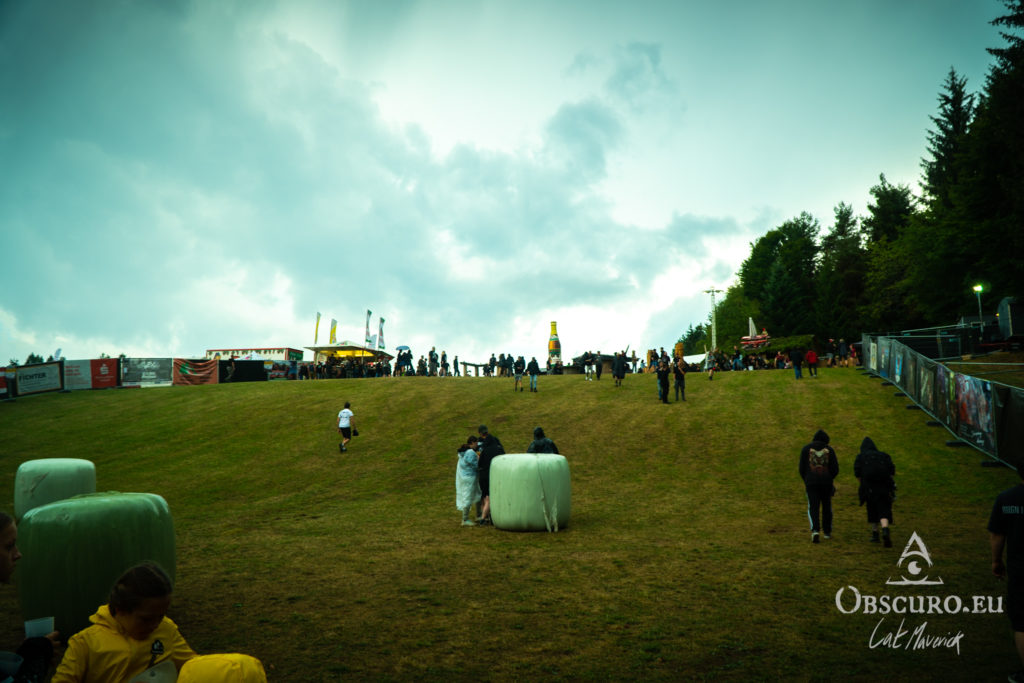 In that way the field is very similar to an amphitheatre, the likes of which sometimes make great concert locations as well. Some examples would be the Loreley stage towering over the river Rhein or the Waldbühne in Berlin. No one has to be annoyed by the tall person standing in front of them and blocking their view. Neither does everyone above average height have to keep moving back to accommodate the regular complaint of smaller people behind them. So, one of the few dogmatic discussions that could keep the crowd from becoming one loving, partying organism solved. You see where I'm going with this? We are already talking about making this a holy ground as well.
Embraced by love and metal
Location and setting are already exciting? Got your finger hovering over the pre-order button for next years Metalacker? Wait till you hear about the people. When you come to the festival, you will realize, that the atmosphere is different. Maybe you can't quite put your finger on it initially. If you experienced the history of the festival growing up, it is probably a bit more apparent. This festival basically exists in two different worlds. On the brink between small local party and big, famous event. You always find some people who seem to have come here instead of their favorite local bar today, since there is just something special happening in this small town today. And next to them standing someone who travelled here for hours across the country to come and see their favorite bands play. Similarly, you see professional security staff standing next to the local firefighter organizing the parking and campground together.
The Metalacker has definitely outgrown the quirks of a small festival with the organizational team having made lots of improvements to the infrastructure and processes on-site. And yet you can't quite shake the feeling that you are at the same time on Wacken and on the birthday party of a popular metalhead in a small village. And that exactly is the charm of this festival. It has not outgrown the local community, but it is also well renowned and attracts a huge crowd of fans and some world class acts to the small stage hidden in the pulsating heart of the woods.
World-class lineup on a local size stage
Excited? Well, you should be! Let's talk music!
In the fashion of a local event, opening act this year is local Metalcore band BLVCKWOOD. Being the first band of the day, they have the opportunity for an extensive soundcheck and use it to amp themselves up as well as the slowly gathering crowd. Despite the rainy weather, there is already excitement in the air. The moment the first song hits the audience, they basically blow away all clouds and send a first wave of electric charge over the fields. Not only having the opportunity to be the opening act (once again after their concert in 2019) in front of a considerably large crowd, but also playing in front of their very friends and family, renders the young bands vocalist extremely humble and grateful. Hearing his words of excitement and gratitude is the sweet cherry on top of a fantastic sundae of a metal show.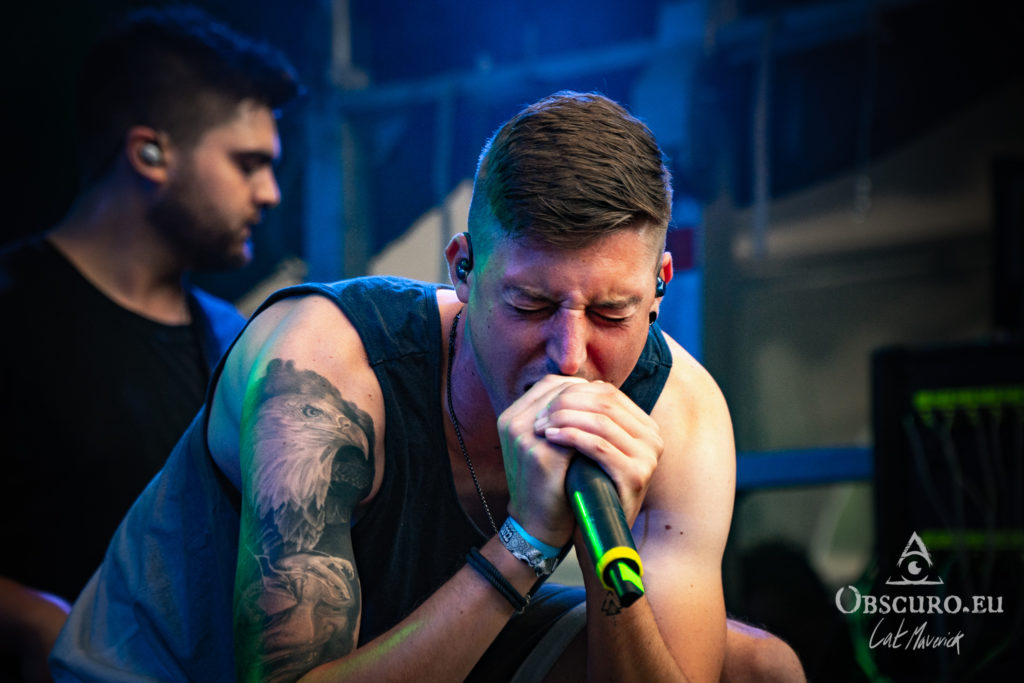 With the next band we are slowly leaving the close proximity to Tennenbronn, however still stay in Southern Germany. Defocus from Aalen bring their fantastic mixture of groove, djent and hardcore to the stage. Having played on as big a festival as the Summer Breeze only a week prior to the Metalacker, we are definitely watching an aspiring band as they plow through the acres in Tennenbronn but – deservedly so – the entire German festival landscape. Leaving behind a path of destruction and a lot of passionate new fans, myself definitely included.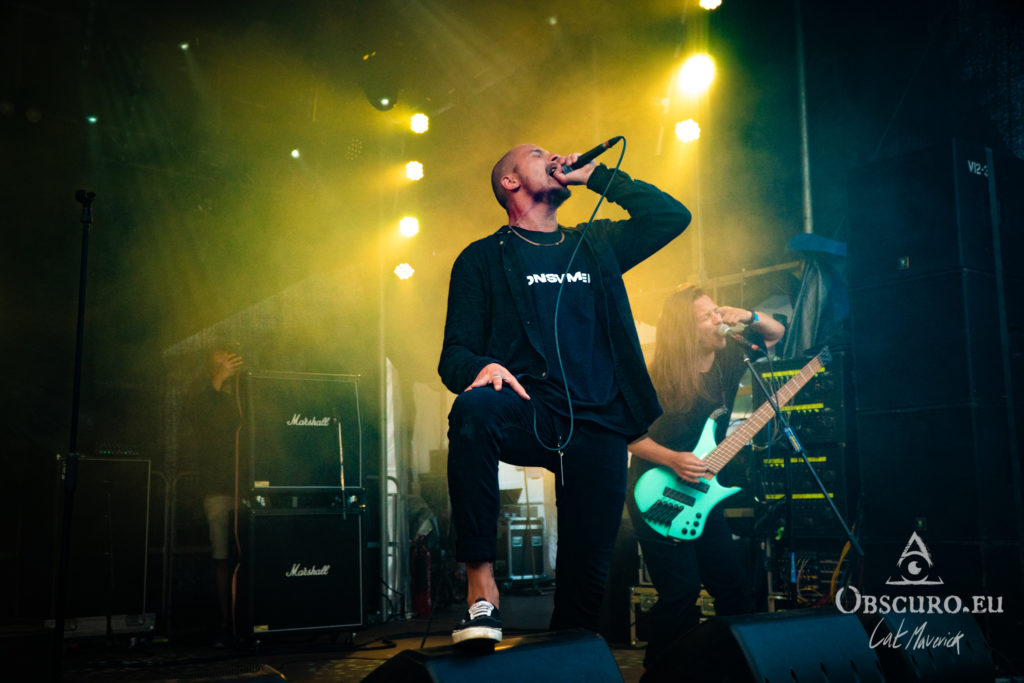 With Serenity as co-headliner we are leaving Germany now and enter the Austrian metal scene. Having toured together with many big names like Powerwolf, Hammerfall and Blind Guardian, they've definitely become a big name in the Power Metal scene themselves within the last almost 20 years. The band around charismatic vocalist Georg Neuhauser announce themselves as the band for the ladies since they consider their style to be the softest on the entire lineup. Nonetheless with every song being harder than the other, they keep proving themselves wrong and blowing away the crowd. This is not the first time Georg is standing on the Metalacker stage, however in 2019 he visited with his other project Warkings. Both of which heavily live of his unique stage presence and powerful, versatile vocals. And with unique, I mean energetic. Energetic enough to keep every fan (and every photographer) equally confused and impressed by how fast he can change his position on stage. In the words of Lord Of The Lost vocalist Chris Harms "Serenity are a rare proof, that exceptional performance of layered vocals at a live show is still a thing."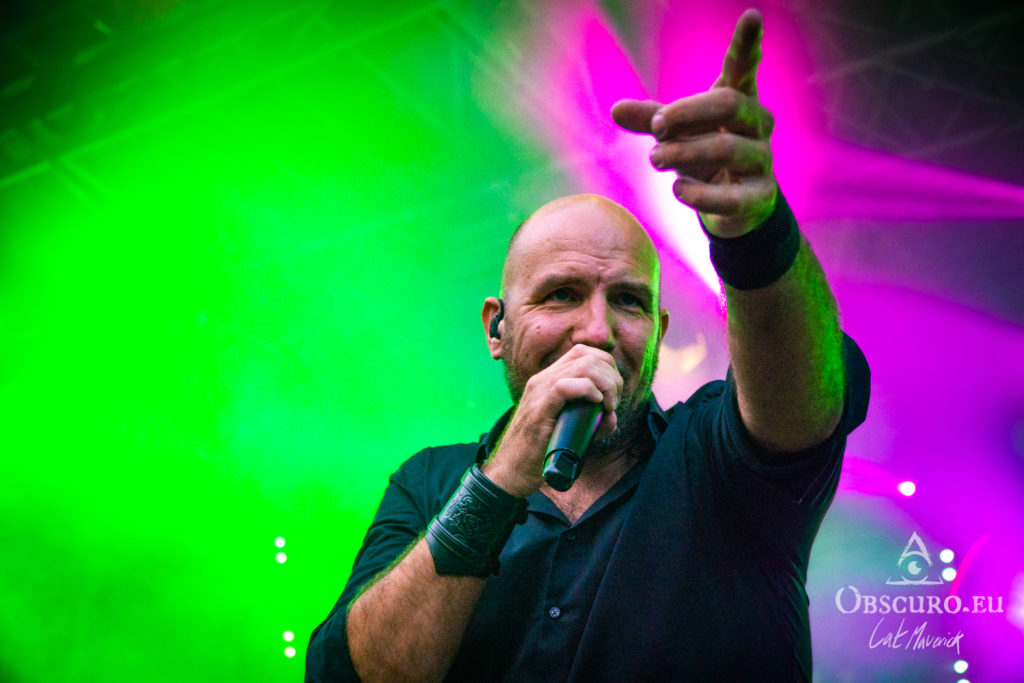 With the darkness slowly embracing us, it gets dangerous outside. You can get lost in the woods. But don't worry, German superstars Lord Of The Lost will draw you like a moth to the flame. Friday's top act has gone through a unique career of defying genre definitions and selling out locations. Just back from the Europe tour as support of Iron Maiden, they seem extremely grateful to be standing on a smaller stage again in such an intimate setting. That being said, there is probably not a single blade of grass left standing now. At least metaphorically speaking, since the pouring rain and hordes of excited metalheads already pretty much dug over most of the field at this point.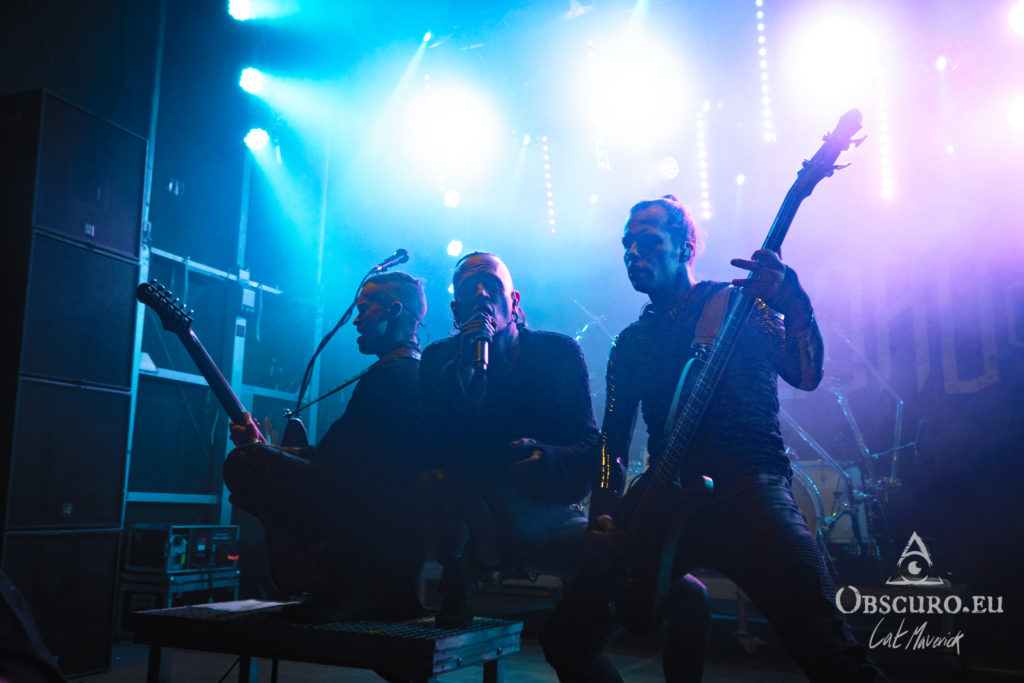 Unfortunately, the security personal and paramedics need to get heavily involved during the show. Where other bands would keep their distance and not get involved, vocalist Chris Harms already carefully addresses the issue in between songs, only to call out people mid-song minutes later. Apparently, some were moshing without any consideration for the smaller people around them. Keep in mind, that this is to a considerable part a family festival with lots of younger people and even kids. Well, the band won't have that kind of behaviour on their show and made sure, that the safety of their audience is top priority. Something they got an extra round of applause and deservedly so.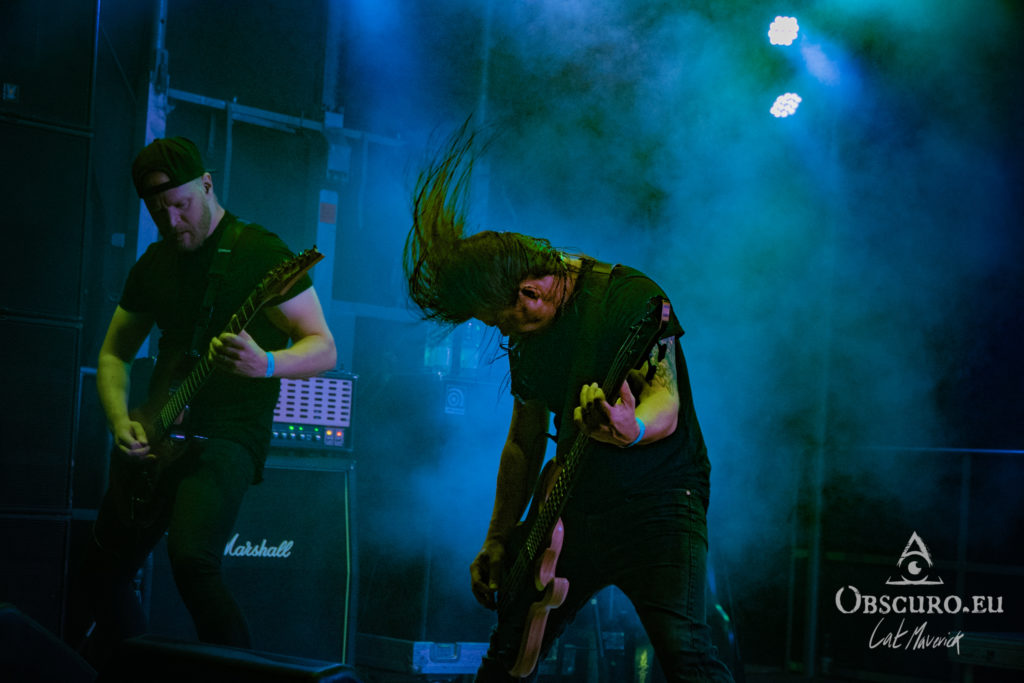 After the band basically gave everything and a bit more, they hand over the mic to vocalist Jarkko Koukonen. By now the temperature has dropped quite a bit. Fortunately, an unusually warm Finnish wind unfreezes the audience, as Bloodred Hourglass play their mix of heavy and melodic sounds. The light show puts an emphasis on a show that feels like a thunderstorm. Everything is clad in a mystic mist only pushed aside by flickering lights and a captivating soundscape. A note on the side: I feel like every time I see them, they appear on stage with a different lineup. Presumably since the Finnish metal scene is one big family, they never go on stage with a disappointing combination of musicians. It appears however, that this is the first time I'm seeing them in their main ensemble and without any replacements or missing musicians. A fact that makes this already good show a great show.
Last on the lineup for Friday are Wolfchant. As the crowd in front of the stage gets smaller, some drunk people still ambitiously trying to climb their way back up the Metalacker's hill to the exit or campsite and the temperature dropping further, the atmosphere in front of the stage is becoming more intimate. An ideal setting for what should have probably been another Skandinavian Viking Metal band but was accidentally founded in Germany. At least that's what I'd imagine just judging from their sound. With a brutal but also very atmospheric soundscape, they give us the "blow me over so I can sleep with the dead" lullaby every metalhead dreams of. A proper final act for the day bringing you into an equally spiritual and rough state of mind. The kind that you need to climb a hill in the dark and cold or to wander through the – by now black – forest landscape in the middle of the night to hopefully find the way out of the woods and to your home.
Building strength and anticipation for another round
For anyone who dares to stay the night, who doesn't fear the "Glasmännlein" (a folklorian demon or spirit which is said to live in the Black Forest) and for those who have not partied all their energy away just yet on the Friday, for all those the Saturday offers an even mightier and more impressive lineup. Especially considering the intimate setting and seemingly small, local vibe (although the Metalacker grew far from small by now). With Madera, Scherbentanz, Shark Tank, Tri State Corner, Der Weg einer Freiheit and top acts Rage and Sonata Artica the Saturday will definitely lure another few thousand people into the woods, despite a quite wet and stormy weather forecast. To regain the strength to withstand the weather and party with your full heart and soul, the Metalacker offers the "Metal Frühstück" (metal breakfast) on Saturday morning accompanied by – not so much Metal – formation Edelweiß Echo, playing locally traditional folk music.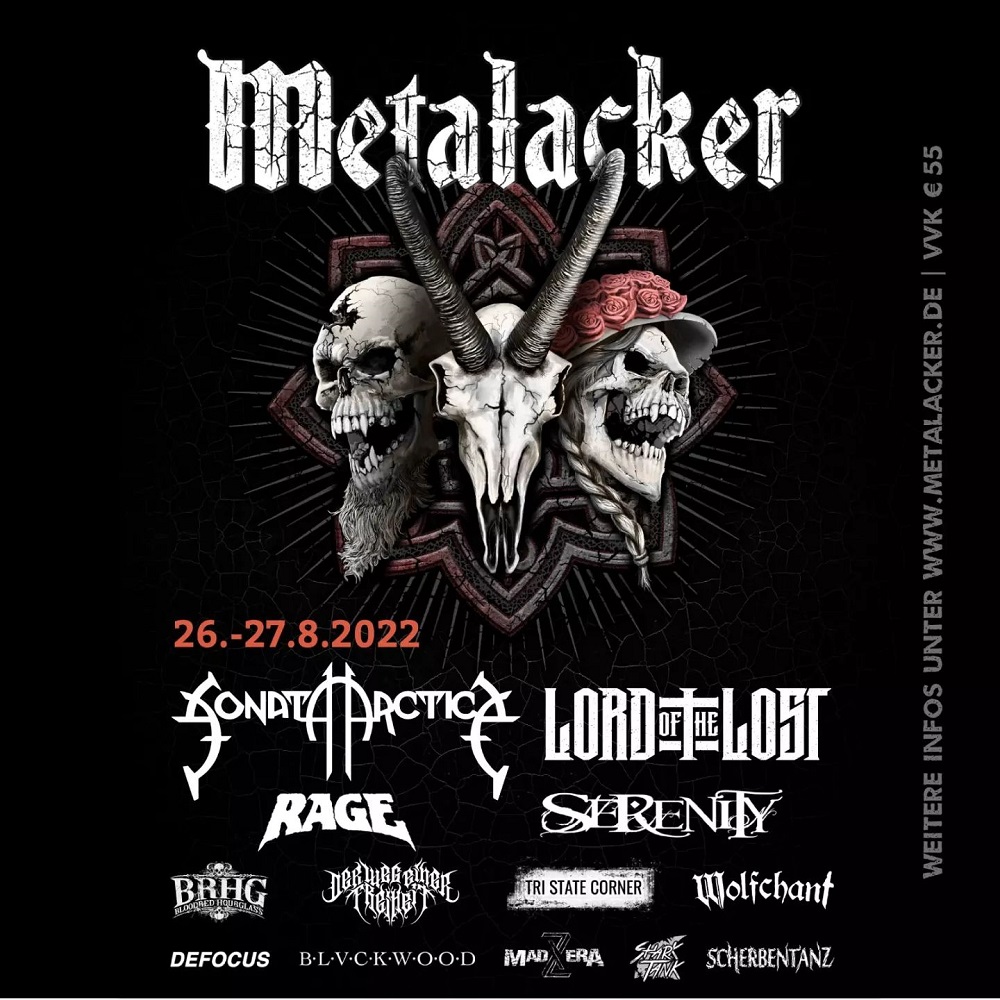 Unfortunately, I had to miss out on the second day of this fantastic festival for personal reasons. But make no mistake, that won't happen a second time! This time the fear of the fae might have scared me out of the forest. Next time I will fuel the necessary bravery with anticipation and love for two days of what I can only imagine will be another jam-packed lineup of local and global stars alongside each other, passionately blasting us through a multitude of subgenres.
Photography and Article by Cat Maverick
Additional editing by DermimBoad
---
!
Visit the official homepage of the Metalacker Tennenbronn Open Air.