Lord Of The Lost Ensemble Tour 2022
Tonight is not the night for a metal show but for Lord Of The Lost's legendary Ensemble tour based on their "Swan Songs" albums. As continuous readers of our concert reviews might know, I've been to Mainz five weeks ago and reported about the cultural possibilities beside visiting a concert. They fit perfectly with the venue Kurfürstliches Schloss (Electoral Palace).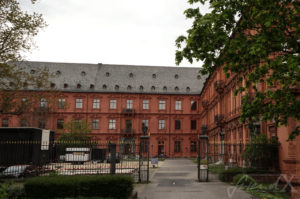 Early for Nothing?
It also hosts the RGZM – Roman-Germanic-Central-Museum. My idea was for an early arrival, visit the exhibition and meet Nadja, the merch manager of Lord Of The Lost, for an interview and to be a bit of a helping hand to her, which I will report in another story. Firstly, I realize the museum is closed, second, I realize the next door is open. It makes me curious about what I might detect! I hear some sound from the first floor. Sounds like….. Yes, sound check of Lord Of The Lost and the Ensemble. But doors are closed, nobody in sight and I don't want to interfere because I'm not early but far far too early. I listen for a short while though – already sounds great! I decide to walk around a bit, some fresh air might be useful because I know the night will be long and demanding.
Still Early but not too Early
On return I am still a bit more than one hour early and arrive at the same time as the catering service. I stumble over Nadja who is checking numbers and recounts the merch at the trailer for a last time. It is a very warm welcome and we decide to meet again 15 minutes later when she has finished this boring but necessary part of her work. I take the chance to talk with some other early birds who came to the "wrong" side of the venue in hope to meet the band occasionally. Knowing the diner buffet for crew and both bands already arrived, I believe they will fail this time. But let them dream. Sweet dreams are what hope is made of! And we need a lot of hope nowadays!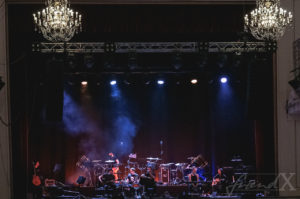 Surprises
Returning to Nadja, my host tonight, at a quarter pat five I run into Class who fiddles around with his drone "Hey Gernot, Nadja is already waiting for you". We exchange some words about our pets as in the interview before I have to go, it is not very polite to let a lady wait… Nadja welcomes me again. "Engin will be here in a few seconds, I will show you everything but before I have a surprise, you both can watch the sound check of Rain Diary." Engin is the local assistant for the merch stand and indeed arrives in less than a minute. He comes from Kaiserslautern, not quite the neighbourhood though.
Perfectionism in perfection
So…we go upstairs, open the doors, and feel like having our own little private concert. The sound and light already are quite perfect for my ears and eyes even though Nasa/lights and Kay/sound still improve every little piece they are not happy with. It is a pleasure to watch the interaction between the artists on, in front and back of the stage until every detail seems to be ready to rock. Whole songs or only parts are repeated, even just short sequences or single notes. Amazing impressions which already wake my interest in Rain Diary!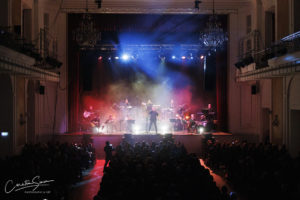 The Merch Stand
Nadja picks us up. We need to leave the concert hall, cross the staircase and enter the foyer. It hosts the permanent bar and the merch stand for tonight, plenty of space all around. Nadja explains to us all the necessary details for the evening: prices, payments, sizes, the whole system of boxes etc. Engin knows it a bit from a show with another band where he helped out a few years ago. I am a bit of a Jon Snow and know nothing apart from some experience from a few re-enactment fairs, but that's no comparison. The stand itself is a bit too narrow for three people anyway, which would already make a crowd. I will leave my spot so that I can pay attention to the merch of Rain Diary. It is already on display but the band itself will only open it during the break in between the set of Lord Of The Lost and once the concert is finished.
19:00 and the Doors open
The first people of the audience arrive, check their place, look for a drink and the merch. It is amazing how colourful black can be! It is even more amazing how many people decide to wear masks although it is just voluntary! Great sign of responsibility and attention for the others. Chris' recommendation and call for medical masks really bore fruit! We see metal heads who exchanged their Kutte against black shirts, cravat or noble gilet and blazer, skirts, evening dress, robes – maybe even lent from their parents. A lot of people wear a kind of masquerade or Steam Punk outfit. And of course we have a strong community of true Goths. They really are the sight that makes the audience even more special.
Discipline
No matter if metal head, goth, steam punker or undefined, what unites them is the discipline. No fight to be the first in line for the merch, no grabbing for the "last piece". None who pours his beer or wine over the merch accidently. Just nice people who pay attention, ask the one or other question, check quality and sizes and buy their objects of desire. Contrary to a metal or rock show in general, the crowd comes at once but less stressed and much calmer than usual. Everybody is open for a nice talk and in a perfect mood, we are not in a rush or on the run, we are here to watch the Ensemble show of Lord Of The Lost!
No Mess
The time passes by and soon it is time for the band whose sound check I've been honored to watch, Rain Diary. The bell rings as for an opera and the foyer empties. We are left alone. We must re-order what has been messed up, refold some shirts and that's it. Time for the three of us to have a cigarette, visit the rest room or watch the set of Rain Diary. Their set is much shorter than their sound check but no less amazing. It is thrilling to see them in full stage light and outfit, playing for about half an hour. Checking their songs at home again I realize that they have slightly rearranged them for this tour. A band to remember and a band worth watching a second time for a full show. Being from Finland, a lot of the audience compare their musical style with HIM, indeed not the worst comparison. We need to leave a bit earlier to man the merch stand of course though.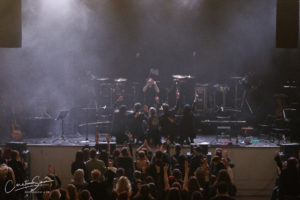 Barely 20 minutes
We expect the break to be a little bit more stressful than the hour before the show, but we were wrong. I'm once again the decoration at Rain Diary's merch stand, and have to explain that they will only open it during the break and after the show but they will all be present for signing. Twenty minutes is nothing though when you want to buy another drink, a "brezn" AND some merch. Two hands are not enough. Being available I help out holding their mugs, food or whatever one trusts me enough to hand over. Well, no raw eggs though.
Ring the Bell
Shortly before 9pm we are ready for more musical adventures with Lord Of The Lost.
Everybody rushes to be right on time as soon as the bell rings for the second time today. We notice there is no mess left this time, it gives us plenty of time to follow the show of Lord Of The Lost and Ensemble. That is much more than one can expect AND we did not see anything of it before – I just listened for a few minutes in front of closed doors…
And what a set it is. The stage light is even brighter than before. Nasa is in control of everything and leans back quite relaxed but fully concentrated. She knows she has already done a great job and preparation is everything. The sound, crystal clear and crisp, no wishes left open. The venue itself contributes in part to it but it still needs a mastermind like Kay to raise sound perfection to a new level.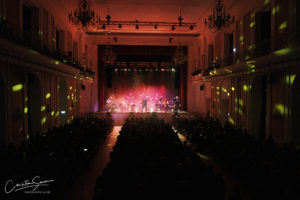 The set list of Part One contains:
Lighthouse
Lost in a Heartbeat
A Splintered Mind
Cut Me Out
Six Feet Underground
Amber
The Broken Ones
Beyond Beautiful
Dying on the Moon
Drag Me To Hell
Raining Stars
Dropping Out
Most songs are more or less well known from the three Swan Songs releases but still sound different, some are rearranged for the Ensemble Tour. Real live instruments of a classical ensemble! No electric guitar or bass but cello and violin rule over the stage. Chris' remarkable baritone fits in well. Between the songs he is more than happy to talk with the audience. He sadly must report about the Covid19 related dropping out of Corvin on organ, harpsichord, and celeste, which would be an essential part of the music and must now be played by computer, because there is no substitute musician possible. For the same reason Lennard who usually films TV Of The Lost had to cancel his participation but could be replaced.
Names, Who cares about Names?
Chris tells a funny story about their rehearsal at Hamburg. They were told that it is a school and Lord Of The Lost should pay attention to the inventory because "we checked your site, your name and metal in general, it is so aggressive", etc. So he smiles and reports about a possible name change for the future. Still undecided though but it must be diverse and gender neutral. My recommendation would be "Manu und die wilde 13" [Manu and the wild 13], because Manu is their lovely tour manager and they are 13 musicians on stage. Soon the time has come for a little break in between the Ensemble show, back to the merch stand to be the decoration again.
The People of the Audience
This time Rain Diary join us, still in their amazing stage outfits. A lot of people already asked for their merch and they are well visited now. I have a bit of room to walk around and talk to more people in the audience. It is interesting to hear where they all come from for just one concert. Even from Paris or as Karo from Grenoble. Her story will be part of a forthcoming article; it is way too interesting to be briefly told here so pay attention. We even see young kids with their parents! It indeed needs to be mentioned again that they are united by the love and passion for music, the discipline and the high percentage of medical face masks. That and they buy the merch like crazy, we are nearly running out of some pieces.
Pure Emotion
Lord Of The Lost open Part Two of the set with their newest song "Not My Enemy", written for good reasons, namely the conflict, better to say war, between Russia and Ukraine. The message is clear; the title says it all. The song makes you shiver; the emotions are overwhelming! Afterwards some songs in a new costume await us. The last song of the whole set is the longest one, slightly more than 18 minutes long. Lord Of The Lost in the range of a Tool-song…
Here is the set list of Part Two:
Not My Enemy
Priest
Loreley
Waiting For You to Die
Morgana
Annabel Lee
Letters to Home
After the Show is when the Work Restarts
After about two hours the work for the band is done. What remains is dismantling the stage, the band's tech, instruments, etc. It all needs to go into the trailer in a relatively short time because departure is scheduled 90 minutes after the last note. Naturally, there is still some merch to sell. We took the chances to replenish what was nearly sold out from our little depot in the trailer during the running show, so everything is stocked again. People pay us a visit for a second, even third or fourth time. Some to buy another piece of merch, others just to say goodbye. Again, it is a very friendly, calm and relaxed atmosphere, none is in a rush. That's how it should always be.
Tetris
As soon as the run is over and the last fan bought his merch item, we start packing everything together. Nadja has a clear and efficient system for what needs to go where and why. We need less than half an hour and the stand is empty, part of history and everything is ready to be loaded into the trailer. We wait for all the stage inventory, sound and light board, instruments, etc. Those need to go in first. It will be a bit of a gamble and Tetris to load it in because they were not quite happy with the system the day before. Everybody involved needs to be aware of what goes where and more importantly, where his or her place and job is. My job as an "external" is too stay out of the way so I am dismissed for the night.
Nightliners
My bed awaits me; I'm not living too far away but it will be a short sleep though. The crew and the two bands share the nightliner for the tour and wait for the trip down to Munich. Even though expensive at first sight, these nightliners are efficient. You don't need to book hotels, maybe just a day room for a shower or so, and everything is handy near to the venue in case you forget something. All you need is a driver who is awake, the others can relax and fall asleep.
The Forthcoming
It was an exciting event for me, a new experience with a totally new point of view. Lovely to talk with Nadja and her help where I could, well mostly it was just entertainment and decoration. What we were talking about and what we experienced during this night with Engin was already shared without knowing it. The people who visited the merch stand will be part of another story that we will write down and publish soon.
A big THANK YOU to Carsten Simon for the permission to include his photos to the report!
---
!
Online:
Lord Of The Lost: https://www.lordofthelost.de/
Rain Diary: https://raindiary.com/
Carsten Simon: https://www.photography-and-art.com
Kurfürstliches Schloss: kurfuerstliches-schloss
Please buy physical music or download it from the bands official sources and don't stream it for free because it steals your artists' income
---
Photos taken by Friend X aka Mr. Deep edited by Mummi-Katja.
All other photos by Carsten Simon, find the full album here: Lord Of The Lost by Carsten