For many months now, we have struggled with the circumstances of our world. So what should one do, when one is isolated, cannot visit concerts and is quite empathic and sensitive to the emotional well-being of other people? For Lindsay Schoolcraft the answer seems to be simple. Create an album! And not just any album, but a harp album. As the passionate harp player she is, this was already a dream of hers for some time. Given her 10th Anniversary as a solo musician this year, she finally made it come true. And thus "Worlds Away" was born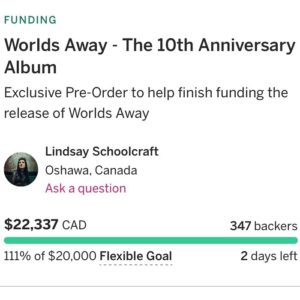 By launching an Indiegogo crowdfunding campaign, she involved her fans early on and got the campaign fully backed without any troubles. Since we (Friend X and Cat Maverick) have both been huge fans of Lindsay's for years now, we were extremely curious from the very moment we saw the campaign page. Some song snippets and the album artwork already visible. Didn't take us any more than that to almost immediately support it. Thanks to that, we got the chance to listen to the songs a bit earlier and write about it for you.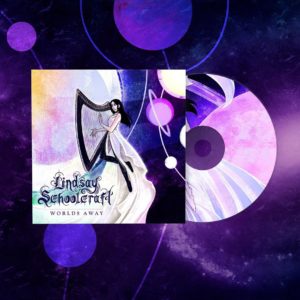 It is quite fascinating, that "Worlds Away" would probably also work as an acoustic album, since in this case – contrary to previous release "Martyr" – the center of attention is not Lindsay's voice, but her harp arrangements. We are absolutely glad though, that she is singing on the album, as her exceptional talent for expressing emotions already blew us away on her previous releases.
If you are not captivated by this description just yet, maybe take a look at the album artwork which once again was created by Russian artist Anastasia Solti and fantastically captures the energy of the music visually.
Close Your Eyes And Let Your Ears Dream
Once you will have listened to her and paid attention to her deep and fascinating personality, Lindsay really becomes an artist you can only love, with an exceptional approach and ambitious musical dreams. She is much more than the average singer in a Rock 'n' Roll band. It is near to impossible to compare her with anybody else. It would just judge both sides wrong, whoever were on the other side. We are happy to invite you to explore and find out for yourself. So here are the songs.
"Worlds Away"
FX: The song itself was born after the composing for "Martyr" and remained unfinished due to the difficult circumstances of the worldwide lockdown. It starts with a short harp intro until Lindsay's voice falls in and the other instruments follow. Together they set up an atmosphere of a still not quite hopeless sadness.
CM: In this melancholic new song, Lindsay processes the emotional distance we keep from each other due to the social distancing. An echoing voice upon a minimalistic instrumental foundation of strings, percussions and harp. Emotions of solitude and isolation connected with these lyrics about the world's current pandemic situation are authentically presented by Lindsay once again. The cathartic character of the song definitely opens the flood gates for a keen listener and almost paralyzes you in a mixture of defeat and hope.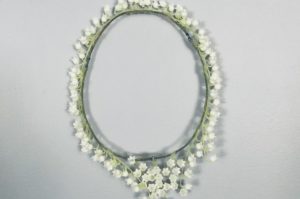 "Savior"
FX: The song slowly fades in, so far away from the original version that it takes a while until you realize, it is the same song. A song of many meanings for the listeners now has one more facet to it. And this is a song which matters a lot to Lindsay personally as well.
CM: The main track from Lindsay Schoolcraft's solo debut album "Martyr" (2019) is the first track that got stripped down from it's original rock version to a minimalistic harp arrangement. At first glance you might not even recognize this song in its entirely rearranged form. Even the basic atmosphere has changed from a strong, bold uproar to a fragile, almost vulnerable state of opening up. This is the kind of unique interpretation of a song one usually seeks when someone covers a song. In that regard it's reminiscent of the Lord Of The Lost "Swan Songs" projects, which are ensemble arrangements of their original songs and partially similarly transformed.
"Darkness Falls"
FX: Harp tones, which sound like raindrops from the grey sky above. Melancholic and dreamy vocals. A song about the confidence to let go if a relationship is broken beyond repair. Heartbreaking and hope-giving all at once.
CM: Originally released under her previous project name Schoolcraft on the "Rushing Through The Sky EP" in 2012, this song might be unknown to most except earlier fans of her music. In contrast to the previous song, this one was never a rock song to begin with. Instead, it makes a perfect example of Lindsay's musical development during the last eight years. The song is less of a reinterpretation and more of a re-recording which fantastically showcases her improved vocal talents and emotional expression. But it also shows how much she has learned regarding the composition, mostly of strings in this song, which is especially captivating.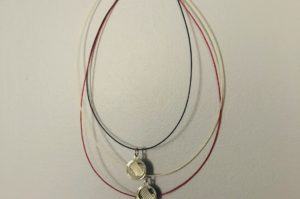 "Fading Star"
FX: "Fading Star" sounds as if two differently tuned harps were used to form this very special atmosphere. This time, Lindsay does all the singing on her own and it is not one bit less dramatic. Lindsay used to play this version on her short 2018/2019 Australian tour, where it was met with such appreciation by her fans and by the artist herself, that it made it onto the album.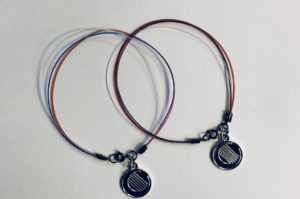 CM: This song was originally released in 2014 featuring Lindsay's – now former – Cradle-of-Filth band colleague, Dani Filth. It is the first of her songs I listened to outside of 'Cradle' and I instantly fell in love with it. I cannot decide, which version I like better, but this is definitely yet another fantastic example of how much Lindsay has grown both as a singer and songwriter. Also pay attention to the harp in this song as it replaces the originally used piano and underlines the lyrics and intended atmosphere even better. It also gives the song that unmistakable Lindsay Schoolcraft signature.

"Stranger"
FX: Take a rock song, remove all the rough guitars and modern arrangements, and what remains is a pure ballad. What you receive is no "Stranger" but the friendly sibling of the original song.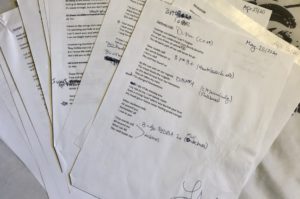 CM: While the harp version of "Savior" shows an extreme difference in the overall atmosphere and sound, "Stranger" originally was already less rough, making the changes a bit more subtle. Make no mistake though. It still a gem of an arrangement, as the experience for the listener is entirely new. This is one of the songs where it is most apparent, why we recommend to close your eyes in a quiet environment and listen to the album with an open mind. Embrace the soundscape. Enjoy all the small details and nuances. Let the song make you forget about the here and now.
"Where I Fall"
FX: This song catches up slightly more speed. Maybe the most emotional song on this already emotional album. It was already one of my favorites on "Martyr", but this version is over the top and will only be surpassed by one other song on the album. It has everything a perfect song should have. I can easily imagine a full album or at least an EP of only this song in several version, may it be Metal, Pop, Rock, Medieval or A Cappella!
CM: In this song somewhere between desperation and liberation, we have probably the most impressive harp playing on the entire album. The vocals and string arrangements fit perfectly as well. I recommend listening to this song twice, once to understand the general emotional landscape built by it, and another time just to focus on the harp. It shows once again, that Lindsay has a variety of talents and doesn't do things halfway.
"Dance On The Strings"
FX: This song is way faster than the ones before, but don't be afraid, of course it still is no 200 bpm song. The melody and the arrangement are much happier than the theme of this previously unreleased song. Losing a friend is hard. Losing him to an unfaithful relationship is even harder. But having seen it coming to this from the beginning is probably the hardest. It is all about not falling down. And if you do fall down, don't fall too deep. Always get on your feet again. Every survivor is a winner.
CM: Telling a story about being torn apart and having to dance between wishes and expectations, the second new song besides "Worlds Away" almost already gives away the composition in the title. In a faster pace than most other songs on the album, Lindsay delicately jumps around with her fingers on the harp. All the while being accompanied by yet another fantastic string arrangement.
"Dangerous Game"
FX: Living in an artificial and digital world makes you lose the sense for reality. We all have to pay attention, which is what in this century of fake news and industrialized mass manipulation. Wake up and fight these wrong gods and odds before it is too late because it is all a "Dangerous Game".
CM: This song about the toxicity of some people in the online-dating world already blew me away in its rock release last year. The emotional expression in the harp version is even stronger though, residing somewhere between uncomfortable and admonishing. Two up-now unused musical elements are especially present here and are making this one of my favorites on the album, the deliberate placement of silence as well as the strong overlays of multiple vocal lines.
"Your Mind"
FX: That is how this little gem should have sounded right from the beginning, when it was first released. Timeless. Beautiful. I could almost find early "Kate Bush" in this version, which means a lot to me. The string arrangement is once again outstanding and well thought out.
CM: Being another interpretation of a song from "Rushing Through The Sky", "Your Mind" once again shows Lindsay's growth. Emotionally it is less cheerful than the original version, which is further reinforced by the minimalized surrounding soundscape, where once was an uplifting string arrangement. This is yet another song, which would best be enjoyed with closed eyes, letting yourself being fully engulfed by its beauty.
"Masquerade"
FX:The song wasn't planned to be released on this album. The fact that we got to hear it though is the result of Lindsay's fiddling around on her folk harp and suddenly realizing that it naturally fits in. It arranged itself without much else do. Again, it is a song about manipulation, fake friends and companions in disguise. They wear a masquerade but never show their true face. They leave your soul damaged and disappear, so time and your own strength must heal the wounds.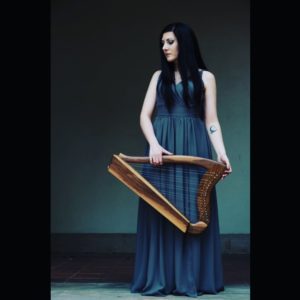 CM: This is about freeing yourself from the pressure of other people's expectations. It is also taken from the 2012 release, and one of the most heavily transformed songs. While the original relies on a playful, fast and nearly unsettling compositional frame, the harp version is much slower and has an almost filigree musical setup. All the while, the message and strength to get it across are not lost. They might be even further empowered by the intimate, minimalistic and highly authentic presentation.

"Warn Me"
FX: Remember what I wrote about "Where I Fall"? Here it is, the one song, which beats it for me. And to think it nearly didn't make it to the album! Thank The Highest Being, Lindsay found a way to squeeze it in on the album with a little help of some friends. Already being my favorite on "Martyr", it is once again my favorite tune and beats the former version by far.
A fantastic song with a dramatic atmosphere. Stripped down to the bare essentials. Put together again with the perfect string arrangement. Some dramatic and nearly monotonic harps acting almost as prayer wheels. My perfect song on this perfect album.
CM: As one of the bonus tracks on only a limited number of physical "Martyr" releases, this song might be unknown to many of you as well. And it almost didn't make it onto "Worlds Away" either. We can be very grateful, that Lindsay changed her mind though, since the metamorphosis it went through makes it one of the songs I'd say are even better than their original counterpart. Built upon a mixture of mysterious harp, ominous strings and echoing percussions, the albums finale gives a listener the chills and shows yet another facet, we did not see so far yet.
Another Magical Adventure For Campaign Supporters
CM: For all supporters on the Indiegogo campaign (and maybe someday the rest of the world), there are three additional tracks, consisting only of vocals and piano. All three of which are extremely captivating, highly authentic and unique gems.
"Breakable" most certainly not found on any previous releases, brings an atmosphere of dreaming, yearning, loneliness and breaking free.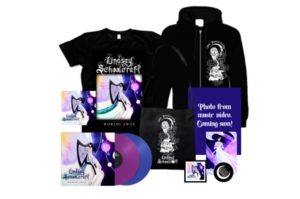 FX: Yes indeed nowhere to be found anywhere else, this must be a secret song she was hiding for some years for no apparent reason. I wonder, what it would sound like with an additional string arrangement or maybe as a rock version.
CM: Contrary to that, the second bonus track "Emily" sorrowfully paints a grim picture of a world not listening to our struggles. The overall song atmosphere goes under the skin, making this version one of my favorite songs by Lindsay so far but also one of the most uncomfortable ones. I'm extremely grateful, that she recorded this song from 2014 once again.
FX: The song begins with a piano intro and intense vocals already triggering hopelessness. Where there is no hope, there is no glory. There is pain but no gain. Life kills but doesn't listen! It almost makes you cry and listening to it I already have a vision of a heartbreaking movie scene in my mind. Or is it the nightmare of forthcoming dreams?
CM: Closing the album is "Into The Night", originally released on "Rushing Through The Sky" in 2012 and re-recorded on "Martyr" in 2019 in an equally, if not even more, enchanting piano version.
FX: Don't mistake it for Benny Mardones' or Ace Frehley's same-named songs though. It really is Lindsay's. The third version after her two previous releases. Far away from worn out, it still sounds fresh in its latest, essential arrangement. Slip away into the night and make your dreams come true.
Like Night And Day
If you thought, you knew Lindsay's music from her previous releases, especially the heavy rock-orientated album "Martyr", you are in for a surprise. Besides two fantastic new songs, the album features several reinterpretations of previously released music. While there are a lot of acoustic albums out there, this one is truly outstanding as it feels like the songs were completely written anew. Comparing the harp versions with their original pendants is a difference like night and day, a fact further underlined by the change of the primary color scheme of the album artwork and music video from black to white.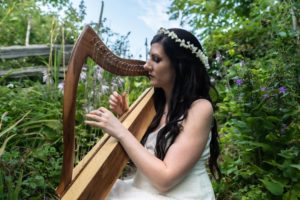 Indeed, it is worth having a closer look at the artwork of both, cover and booklet. Once again, a fantastic interpretation by Anastasia Solti. No one could have done it more perfectly than her. Check out her Instagram for commission artworks and other cool stuff or her Patreon if you truly want to support her.
If you want to see another facet of Lindsay, fancy emotionally authentic music or just want to escape your reality for some time, then put your headphones on, close your eyes and let your mind travel "Worlds Away".
The album was released on October, 9th 2020. I'd suggest going for the physical release as it contains a full booklet with many background information to the songs and further fantastic artwork.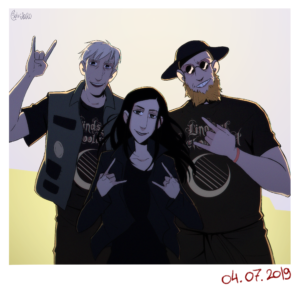 If you want to read more about Lindsay's previous release "Martyr" also check out our extensive review on obscuro.cz.
---
!
Homepage: @Lindsay Schoolcraft
Merch / Physical Copies: @Schoolcraft Shop
Digital Music: @Bandcamp
Crowdfunding: @Lindsay Schoolcraft Indiegogo Channel
Further info: @Lindsay Schoolcraft Link Tree
---
Review by Friend X and Cat Maverick