Obscuro had the honour to virtually interview Justine Daaé during the release process of her band Elyose's new album. Justine not only is a lovely friend but a great artist with one of the best female vocals not only in the French Metal World. So here you are:
Salut Justine!
"It is lovely to meet you today for an interview even though it is only virtual. Let's just imagine we're sitting in a lovely café in Paris and enjoy coffee, cake and the decoration and atmosphere. My suggestion would be Café Procope of course but which one do you like most?"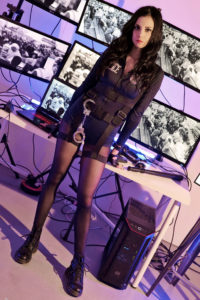 "Hello, thank you for your interest in our work and for this interview, I appreciate it so much! I don't have a favorite "Café" in Paris, as long as they make cocktails and Spritz specifically!"
Déviante
"Interesting to know, I am certainly going to have a Spritz on you next time I'm in Paris. The brand new Elyose album came out a few days ago. What is the title and why did you choose it?"
"The title is "Déviante", which in French is a feminine adjective that means "Deviant", someone who does not follow normal expected behavior, because this record is a lot more hard-hitting than the previous ones, even with escapades into Metalcore… But of course kept the melodic and mystique."
"Déviante is your fifth studio album as Elyose, what has been different to the other four albums?"
"Like I said it has this time a Metalcore twist that wasn't there on previous records (maybe a little bit on "Persona" already though…), so it's a bit more extreme. I also tried new things on vocals for example the Migos flow on "Vendredi noir", which is a rap style characterized by a triplet rhythm and rapid-fire delivery of lyrics over trap beats. Generally speaking, we feel strongly about this being our best record yet!"
"The album contains nine songs plus a "radio edit", which one do you like most?"
 "My favorite songs of this album are "Vendredi noir" and "Déviante!"
"Who were the inspirations for the new songs? Do you have kind of "idols"?"
 "I've always been impressed by Modern Metal acts like In This Moment or Lacuna Coil but I'm also a big fan of Gothic Doom Metal so my inspirations are from various Metal sub-genres. My idols, musically speaking, are Septicflesh, a Greek Symphonic Death Metal band, and Paradise Lost."
"Would there be another song you would especially give a recommendation for? Why this particular song?"
"I recommend all of them! I believe there are no fillers at all in this album!"
Live or Internet
"Will we also have a chance to enjoy the new album and some older gems live or do you focus on internet appearances instead? A lot of artists struggle a lot with the costs of a tour nowadays."
"Elyose is now a duo so going on tour with a whole band would be too expensive. We would need to hire session live members and we cannot afford it. Even less the production and travel costs. Making a living with music is our priority and touring is a luxury at this point."
"So what about a tour with some other French Metal artists, I know there are not as much as in Finland, but those you have are really good. Are you in contact with some of them?"
"I would really like to tour with a Parisian band called Out of My Eyes because it would fit very well with Elyose and especially because we released a single called "L'Assemblée" featuring their singer Cocozher! It would be amazing also to tour with Anthony's previous band Smash Hit Combo, because they're friends too, but mostly because I'm a big fan of their music!"
The other projects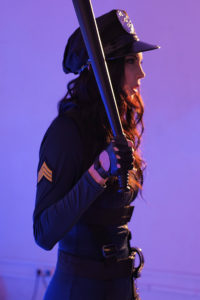 "Beside Elyose you are a quite busy bee and have another side project with two other vocalists, can you tell us more about it?"
"The Erinyes is my other band; in which I have a different job. There I'm "just" a singer, and the songwriting is by Aldo Lonobile and Luna Akire. It's also enjoyable to be able to focus only on my own instrument while in Elyose I'm also a songwriter and producer. It was also a great opportunity to meet Mizuho Lin and Nicoletta Rosellini who I became friend with because we have so much in common!"
"You post a lot about your sportive activities! You're working out in the gym a lot and even run marathons. To me it looks very impressive. On which level would you see yourself? Is it already a semi-professional level?"
"I'm the sporty type so I love to work out in general but I particularly like nature trails. I'm also part of a group of runners here in Paris and I practice two to three times a week, but only as an amateur! I never ran a full marathon but hope to achieve this goal within a few years maybe."
Raising the level
"Let's come back to Elyose. For a while you have been a solo artist under this name. What happened?"
"In 2019, I decided to part ways with the other then band members of Elyose because they all had jobs and didn't want to become professional. I, on the other way round, became a professional singer and songwriter and understood that I should work with people who have the same goals and work ethic as myself. I completely found this in Anthony."
"Will there come more musicians to form a complete band or will you rely on guest musicians instead?"
"For now, there's just the two of us officially but there's actually a third band member who wants to remain in the background. His name is Jean-Baptiste and he's the third songwriter and lyricist. We have no plans of changing this line up."
Independence is most important
"Keeping in mind that you are an independent artist, have you ever considered looking for a label with all its marketing possibilities or are you happier as it is now?"
"There's not much a label can do for you today that you can't do for yourself. We're no longer in the 80s and the marketing tools we have in our hands are phenomenal. I'm a full-time singer and musician so I can also manage my own music business. And honestly it's thanks to this that I can live of our music."
"So where do you see yourself in, let's say, five years? Would you also change the genre completely given that you have an education as a classical singer? I believe, you could certainly sing almost everything up to opera level…"
"I'm very flattered but I wouldn't say that. I might have become a chorist but not a solo opera singer… Honestly I don't see myself somewhere else than in the Metal scene. Metal has always been in my blood!"
About food and beverages
"Before we finish, just let me know, what are your favourite dishes and beverages?"
 "My favorite food is vegan food and Korean food. My favorite cocktail is Spritz!"
"I should try to cook Korean food once. Do you cook it very often? Do you like cooking in general or is it more of a burden and necessity?"
 "To keep my costs on food low I sometimes need to cook but I'm not very keen on it. Nor very good!" [laughs]

"I see. It was a lovely chat with you. Now let us give Déviante a listen, I am more than curious and hope it will all work out as you hope for."
"Thank you so much!"
 "I have to thank YOU. It was a pleasure to speak with you."
Read our review of Elyose's album Déviante here and check our review of the DVD Live in Paris here.
---
!
Please buy merch and physical music or downloads  from the bands' official sources and don't stream music for free because it steals your artists' income.
Visit the bands online to find their merch & music to support them:
---
Proof reading by DermimBoad
Interview by Friend.X aka Mr. Deep
Photos taken during the video shot of "Vendredi noir"  property of Justine Daaé