Batschkapp Frankfurt
It is a mid-October evening. The days gradually become shorter and  colder. It is the right time for a little bit of heart-warming Gothic Metal. No big words this time, just photos, photos, photos. Enjoy the pics.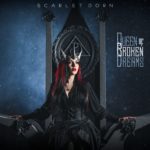 Scarlet Dorn
Sorry, no pics of Scarlet Dorn though. Sadly they could not present their new album "Queen Of Broken Dreams". Two band members were ill so the band had to cancel some gigs of the tour. Once they will have recovered and are on the save side again, they will resume their shows.
Nachblut
For the very same reason Nachtblut opened the evening with their splendid show. Although released in 2020 already, they can promote the recent album Vanitas live only now!
Lord Of The Lost
The multi-genre band is finally home again after the mind-blowing tour supporting Iron Maiden and the amazing festival summer season. Homecoming means to Lord Of The Lost to be back at the 'small' club stages.
And don't forget TV Of The Lost
Save The Date
The last chance to experience Lord Of The Lost live this year is coming soon. They have invited ASP, End Of Green, Aesthetic Perfection and Tag My Heart to celeberate the Lordfest together with you:
---
!
Online:
Please buy merch and physical music or downloads  from the bands official sources and don't stream music for free because it steals your artists' income