Before kicking off the top ten album lists of the year, we bring a little recommendation list of albums from the largest continent of the world – Asia. 
Recommendations against the stream
It's not easy for Eastern bands to break through in the USA or Europe. There are success stories for sure: Babymetal has been one of the biggest success stories in rock and metal in the past years. There are many bands that have a cult status in the underground scene, too many to be mentioned here. But when it comes to metal music, influence and prestige clearly flows from the West to East, not the other way around.
And that is why a lot of good music gets unfortunately overlooked. With this list, I want to bring to the reader's attention some of the music that perhaps got less love than it otherwise could have. This list obviously isn't comprehensive, and it reflects my own tastes. It's also not geographically balanced because some regions obviously have more developed scenes than others; and it is easier to follow what's happening in, let's say, Japan than in Nepal, if you don't have any particular connections. So, please feel free to add your own recommendations in the comments. 
Where possible, Bandcamp links are provided to albums. Please listen and support. Recommendations come in no particular order.
Aek Gwi (厄鬼) – Dead's Grudge (South Korea, black/doom metal)
South Korean one man band Aek Gwi plays a psychedelic mix of black metal and doom. As you can imagine, this is not what you put on a nice Sunday afternoon when you want to bake some cookies or cheesecake with your kids. The promo description "Dead's Grudge is an incantation steeped in a macabre mysticism; one that draws the listener deeper into its charnel coffin depths with each ritual croaked by wretched whispers." Me,  I won't be able to do a better job describing it. Stream or buy the album on Bandcamp. 
Ashen – S/T (Taiwan, grindcore/death metal)
Taipei,based death-grind veterans Ashen have hit the studio again after a long pause. Founded in 2007, they were part of the first wave of extreme metal in Taiwan (by the turn of the millennium metal in Taiwan was in a state of infancy). On this new release they show that they are in good form. Their music blends aggression with emotion. Together with spasmic grindcore riffing, we hear some slick death-metal riffs which are on the melodic side, while the frontman's vocal performance is full of feeling. Their best work to date I would say. Listen to a song from their upcoming album.

Bloody Tyrant – Hagakure II (Taiwan, folk metal)
Taiwan's Bloody Tyrant is a folk/melo-death band that has gained some following abroad. They've toured Europe at least twice. They're skilled performers, and have quite a few good albums. This year they've released an EP "Hagakure II", which apparently is a follow-up to their 2018 album of the same title. If you like high-energy melodic folk metal like Eluveitie or Ensiferum this will be your jam. Bloody Tyrant wear their influences on their sleeves, but there is a slight oriental twist to the Euro-folk metal genre that some people will surely appreciate. Stream or buy the album on Bandcamp. 
Defiled – The Highest Level (Japan, death metal)
Tokyo death metal OGs definitely have the proverbial Asian work ethic. These guys are pretty consistent: since their founding in 1992, they've released seven long-play studio albums. Five of them – including the latest one titled "The Highest Level" was released by the French label Seasons of Mist. Their earlier sound was more chaotic and "brutal" (as in brutal-death), now they sound more streamlined. If you like bands like Vader, Sinister or Krisiun, you will like this. Stream or buy the album on Bandcamp. 
Demented Heart – Frantic Epidemic (Indonesia, technical death metal)
Indonesia is known for its brutal death metal scene, in which the classic California brutal death metal sound is the most prevalent influence. But the quaintly named band Demented Heart (founded in the year 2000 under a different name) plays unadulterated tech-death in vein of Necrophagist or Spawn of Possession. Just like on their 2010 album "Seeds of the Venomous", the band is very impressive. The riffs can be a bit samey across the songs but you can't be mad at them because the music is so tight. Stream or buy the album on Bandcamp.  
Demonstealer – The Propaganda Machine (India, death metal)
Famous Indian headbanger and chef Sahil Makhija, also known as the frontman of the band Demonic Resurrection, is back with another release of his one-man band Demonstealer. If you like hard hitting but  also dramatic death metal in the same vein as Septicflesh, Behemoth or Fleshgod Apocalypse, this will be right up your alley. As Demonstealer has a lot of interesting guest features, this time we have contributions from Hannes Grossma (Alkaloid, ex-Obscura), James Payne (Kataklysm) or Martino Garattoni (Ne Obliviscaris) among others. Stream or buy the album on Bandcamp.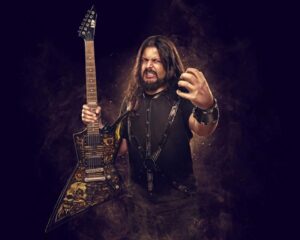 Emasculated Vituperation – Purulent Menophilic Hematospermia (Taiwan, brutal death metal)
Founded in 2021 by three young guys from southern Taiwan, they were later joined by Larry Wang on vox (check out our interview with one of the members here: https://obscuro.eu/fresh-blood-from-the-taiwanese-metal-scene-meet-mjatt-lee/). "Purulent Menophilic Hematospermia" is their second LP to date. What to say about it? It's unapologetically extreme. This is the soundtrack to getting mauled to death by a pack of rabid pit bulls in a dark alleyway or accidentally dropping 200 kg on your neck while trying to rack a barbell after doing a bench press. Recommended to brutal ping-snare sound enjoyers. Stream or buy the album on Bandcamp.   
Fatuous Rump – I Am at Your Disposal (Taiwan, brutal death metal)
The mad-goose wizard from Taiwan Larry Wang (this is not the last time I'll mention him in this article) and his crew are at it again! After the sad demise of Maggot Colony (or in the years leading up to the split), Fatuous Rump was Wang's main outlet for live performances. The band also keeps a very regular release schedule – "I Am at Your Disposal" is their fifth studio album. If you know Larry's music you know what's up – you're getting steam rolled by slamming brutal death metal like it's 2008. Vacuum cleaner vocals, massive bass drops, silly interludes, disturbing lyrics, all that jazz. It's good fun if you like very brutal music. Stream or buy the album on Bandcamp.   
Ferocious Fetal Formula – Primordial Generic Genocide (Taiwan, brutal death metal)
A new project where members of Emasculated Vituperation teamed up with Larry Wang who's responsible for vox. The principal songwriter for the band is guitarist Yuru Wei (just as he is in Emasculated Vituperation). Here, the guys take a bit more serious approach than with their caveman slamming bands. The slamming is not completely absent but a lot of the riffs have a more technical bent. The sound has perhaps more proximity to Pathology or Gorgasm than the really low IQ slam. Stream or buy the album on Bandcamp.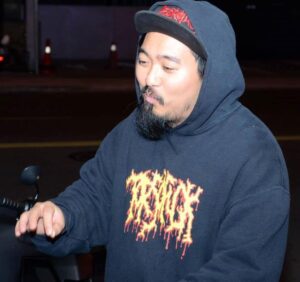 FesterDecay – Reality Rotten To The Core (Japan, gore grind)
Fukoaka's own FesterDecay play goregrind in the old school, brutal way. Nothing more, nothing less. They're a relatively new band and "Reality Rotten To The Core" is the band's debut LP. And it definitely delivers: groove, aggression, filthy old school sound, it's all part of the package. Japanese goregrind already has a good name abroad thanks to bands like Viscera Infest and Butcher ABC, and FesterDecay definitely don't make theri countryman look bad. Stream or buy the album on Bandcamp. 
Kruelty – Utopia (Japan, hardcore/death metal)
The Tokyo outfit Kruelty has burst on the scene with their LP debut "A Dying Truth", which was a master class on how to blend hardcore influences with old school death metal. For a seasoned death metal listener, the sound will be both familiar and fresh at the same time. It's a bit hard to put into words how much their music slaps, the blend of styles works perfectly. No wonder that for their latest album "Utopia" the band signed a contract with Profound Lore Records, and that they've toured the US and Europe extensively. Stream or buy the album on Bandcamp. 
Lesbian Tribbing Squirt – Six EPs (Taiwan, groovy goregrind)
This is quite a unique project by the aforementioned Larry Wang. LTS is his solo studio project with which he pays homage to old school pornogrind sound of bands like Cock and Ball Torture, Rompeprop or Spasm – the kind of bands that throw dildos and blow up dolls at their audience. Each of the six EPs that the band dropped all at once this year has some slight differences in their sound. It's a quite unique release just because of the sheer scale. I couldn't tell you where to stream it though. I don't know how you can listen to these EPs other then by ordering the physical copies, but you can stream previous LTS albums on Bandcamp.
Parasitario – Everything Belongs to Death (Japan, death metal)
If Japanese bands are known for something it's for their technical abilities and attention to detail. Osaka-based band Parasitario is a great example of this craftsmen-like mentality, and I don't mean this pejoratively. They play classic early 90s-inspired death metal, and they really wear their influence on their sleeve. Just listen what a great impression of Chuck Schuldinger vocalist Yuto Kotani does. He's really studied Chuck's mannerisms under a microscope. There are other Death-inspired bands out there (i.e. Gruesome), but Parasitario have nothing to be ashamed of even in comparison with the better known Western bands. Their debut "Everything Belongs to Death" came out on the German label F.D.A. Records. Stream or buy the album on Bandcamp.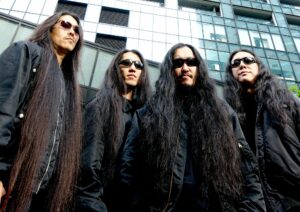 Subconscious Terror – Chaotic Diffusion (Japan, death metal)
Another quality release from Japan. Subconscious Terror released one album in the mid 90-s but later called it quits. After a long break, the band was reformed in 2019. Since then the band has completed two LPs. I get some strong Suffocation and Immolation vibes. In other words it's death metal that is technical but also sounds menacing. As we've come to expect from Japanese death metal bands, Subconscious Terror are dexterous players and good song grafters. Stream or buy the album on Bandcamp. 
Welkin – Emblems of Valour (Singapore, black metal)
The spirit of the old Darkthrone and Burzum is still alive. You may ask why, what is the point. But we never stopped to tell tales about swords and wizardry or pirates and buccaneers, so what's wrong with keeping raw black metal alive? Take it or leave it. Singapore one-man band Welkin keeps it old school, yet the music isn't an empty cliche. The bleakness of the song always leads to some emotional payoff. I love some of the primitive catchy riffs and grooves. There isn't much black metal represented on this list, but this one I can get behind. Stream or buy the album on Bandcamp. 
Other recommendations: 

   
Without Defeat – Absurd World (grindcore, Japan, link)
Kokeshi – reikoku (blackgaze, Japan, link)
Myocardinal infarction – Immersion In Delusional Euphoria (brutal death metal, Japan, link)
Rupture – Reentry of the Mass Graves (death/thrash, China, link)
Demonslaught 666 – Nekroslaughter Battlefield (speed/black metal, China, link)
Scattered Disease – Dilapidation and Endless Suicide (brutal death metal, Indonesia, link)
Unmatched – Ruin the Soul (brutal death metal, Indonesia, link)
Veiyadra – Amalgam in Chaos (brutal death metal, Japan, link)
Deviloof – Damned (metalcore, Japan, link)
The Illusion of Dawn – In Extremis (black metal, China, link)
Resurrection – Yue Exterminator (black metal, China, link)
Vandal – Jigokuhen (black metal, China, link)
Vengeful Spectre – S/T II (black metal, China, link)