Readers who follow the US death metal scene are maybe aware of Nikhil Talwalkar, who at least since last year became the talk of the town in the usual online spaces dedicated to modern death metal. It's no wonder that he became a sensation among brutal death metal and slam aficionados. For one he's able to release high quality solo recordings at a young age of sixteen on a leading label in the genre. Also his boyish, delicate appearance makes him stand out in a genre where a burly, caveman appearance is more of the norm. He gained traction thanks to his playthrough videos that he started posting on Youtube since 2018 and his talent and charisma made it possible to cultivate a wide network of connection in the death metal scene and become a part of a number of bands and projects such as Bludgeoned, Theurgy or Undeciphered. This all apart from releasing music with his solo project Anal Stabwound and playing gigs with different jazz and rock bands. His skill and ability to deliver will impress everyone, even people who wouldn't necessarily chose to listen the most caustic sort of extreme metal like slam. 
Hi Nikhil, thanks for your time, tell us how it all started for you. What got you into death metal at such a young age and how did you start playing music? To be honest I've listened to metal as a youngster, but I didn't even know what death metal (or slam/BDM) was when I was 12 or 13 years old, haha. Do you feel like a bit of an outlier among your peers when it comes to your musical taste? 
I began to get into death metal around the same time that I started playing guitar at age 11. What initially interested me about it was the technical skill required to play the music, so naturally I gravitated more towards technical death metal such as Necrophagist or Beyond Creation at the time. From there, I discovered new and more "brutal" music pretty much exclusively through the internet. Yes, there definitely aren't many people who share my same musical taste where I live, but I'm lucky to have a community of musicians and friends who can at least appreciate it, whether or not they'd choose to listen to it in their free time.
My parents encouraged me and I was able to start playing drums at age three or so.
A MUSICIAN IN THE MAKING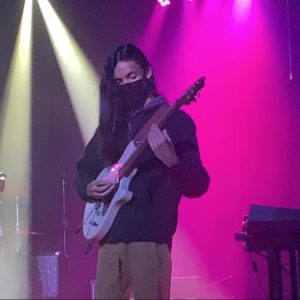 You grew up in the USA. Was there someone in your friend circle who influenced your musical taste? Do you hang out with local metalheads or are online acquaintances more important when it comes to getting feedback, exchanging ideas about music etc. 
Unfortunately where I live there isn't much of a death metal scene, but my musician friends have definitely influenced my musical tastes on the jazz fusion and prog spectrums. As for getting feedback, I find that online acquaintances and other death metal musicians are very important as they have more specific expertise in the subject.
Are you from a musical family or how come you're such a skilled player? Were your parents always supportive of your musical endeavors?
Yes, my dad plays guitar and my grandpa was a pianist. Thanks to that mindset, my parents encouraged me and I was able to start playing drums at age three or so. From there, though, all of my progress has been a result of hard work and practice. There's no way around that, unfortunately. My parents have always been very supportive of my musical endeavors and thankfully are able to appreciate the music for its complexity and merit as it can be easy for people to brush off brutal death metal off as being "noise".
I started making playthrough videos as a means of transcribing some of my favorite songs.
How did you start making playthrough videos? Did you already have a plan to start your own musical project three years ago when you uploaded your first video? 
I started making playthrough videos as a means of transcribing some of my favorite songs. My first cover, "Necrocoprophagia" by Visceral Disgorge, didn't have a tab at the time so if I wanted to learn it I had to take the time to figure it out by ear and transcribe it. I was very inspired by Wilson Ng (Facelift Deformation) specifically. Yes, I already had planned to start Anal Stabwound a year or so before that. I started writing "The Visceral Sovereign" 4 or 5 years ago. Of course I made lots of changes, completely rewrote parts and added songs when I was finalizing and re-recording all the tracks in the summer of 2020, but writing had officially started a few years before that.
GETTING INTO THE DEATH METAL BIG LEAGUE
When did you release your own music for the first time? How did Anal Stabwound get signed to New Standard Elite (NSE). 
My first actual release was Anal Stabwound's debut album "The Visceral Sovereign" in January of 2021 on Inherited Suffering Records, although I had informally released a few demo tracks beforehand. I had started writing the "Abstraction Bathes in Sunlight" EP shortly after, trying to delve more into the experimental and odd side of my writing. I finished writing, recording, and mixing the EP five months later and sent the tracks to Dan Osborn from NSE. Thankfully, he liked it!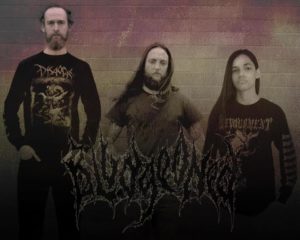 After your playthrough videos blew up and after you've started Anal Stabwound you've quickly joined a number of international BDM projects such as Theurgy, Hate Inclination, or Undeciphered. Which one was the first one that you've joined and how did you guys got together initially? 
The first international project I joined was Undeciphered in September of 2020. Oscar, the guitarist/bassist, reached out to me saying he was interested in starting a project with me after seeing my first drum cover of "Suttee" by Defeated Sanity. He then recruited Paulo Paguntalan of Encenathrakh and Unborn Salivate for vocals and he really brought the music to the next level. It's amazing to see all the support for the Undeciphered album, I'm very grateful to everybody who took the time to listen and support!
You're in a bunch of international projects, do you plan also on partnering up with someone to play live? Or do you want to play live in the future? 
Yes, I do plan to play live in the future. I play live pretty regularly with jazz and rock groups but I'd love the opportunity to play a brutal death metal gig. My band Bludgeoned with Jonathan Huber and Sean May plans to play live in the summer of 2022, so hopefully that will all still work out! Bludgeoned is the only one of my projects that has all of its members in the United States so getting together for shows shouldn't be too difficult.
PARTNERSHIPS AND FRIENDSHIPS
Is there anyone with whom you work particularly closely and whom you would consider a mentor in a way? 
Most of the people that I work with I look up to a lot. I wouldn't say there has been only one person but it has been great to work closely with Oscar Ortega,  Floor [van Kujik] from Korpse, Polwach [Beokhaimook] from Ecchymosis, and Larry Wang [from Gorepot, Fatuous Rump], among many others. Lille Gruber from Defeated Sanity also has been an invaluable source of inspiration for me.
Unfortunately, I am not very well connected to my family background in a cultural sense.
You seem to be well connected with the Asian scene, you play with Polwach Beokhaimook of Ecchymosis in Theurgy, you collabbed with Larry Wang. Is it in part because of your family background? Does metal from East and Southeast Asia have a special place in your heart so to speak? What are some Asian death metal bands that you really like? 
Unfortunately, I am not very well connected to my family background in a cultural sense. I'm half Indian but have lived in the United States my entire life. I think my connection to the Asian scene is mostly due to how passionate they are about the music and how productive they are. Polwach and Larry, as you mentioned, both have at least 10 bands they are in, haha. You see that same sort of passion in the Indonesian scene as well. Some Asian death metal bands I've really liked are Woundeep, Ecchymosis, Disconformity, Strangulation, Biomorphic Engulfment, and many more.
What are your plans for the immediate future when it comes to music but also personally? 
As for personal plans, I'm fairly focused on my Junior year and thinking about college. Musically, I'd like to start playing shows with some of my bands as restrictions begin to lift on live events. I have lots of albums with various bands in the works right now, including Anal Stabwound, so I have been preparing for those releases. This year will bring lots of new music for sure!
INSPIRATION
Do you listen to a ton of death metal releases? What are some favorite death metal of the past year? 
Yes! I always like to stay up-to-date with new death metal releases. This year has had many great ones. I really enjoyed the new Metharoma, Stabbing, Meshum, Cenotaph, and Flesh Hoarder releases. It's very cool to see the ethos of the scene, at least with these bands, shifting back into writing more catchy and memorable music. I'm excited to see where this goes in the future
Typically we refer to the band as "AS" in family discussions.
What does a young dude with so much going on in terms of music do in his free time? What are your non-musical sources of inspiration? 
Typically I spend my free time writing my own music as the rest of my time is taken up by school and playing for local bands and with my musician friends so it's difficult to get away from music in my life. So, to be honest, I haven't had much time for anything else!
Does your grandma know that you have a band called Anal Stabwound? 
Haha! Yes, she does! Typically we refer to the band as "AS" in family discussions… they may not be personally into the music but have respect and recognition for it, which is all I could ask for. I'm lucky to have a family that is very supportive of what I do musically.
Thank you for your time. We wish you all the best! 
---
! Nikhils's Socials:
Follow Nikhil Talwalkar online, watch his vids or buy music & merch