It is a late and lonely October day. Autumn it is, rainy and cold if not clammy. Cuddling into the couch pillows in the gloomy light of the fading afternoon, what better can we do than take a journey into the realms of melodic metal? So how about giving Mors Subita's new album "Extinction Era" a first and brief listen?
Mors Subita (founded in 1999) have come up with their fourth full-length album. The previous album, "Into The Pitch Black" (2018) got them that long-deserved international recognition. Their main creative source and string wizard, Mika Lammassaari, has been well known from his time in Wolfheart, Eternal Tears of Sorrow and lately with his solo project Obligatory Human Destruction. Vocalist Eemili Bodde (also known from Detset) writes most of their lyrics. Mika "June" Junttila (bass) and Ville Miinala (drums) completed the band until the second live guitarist Juho Näppa finally joined the band this summer.
Mors Subita's dominance of speed-driven riffs familiar from the earlier material has undergone an evolution. "Into The Pitch Black", the previous album already surprised us with slower yet no less extreme and harsh elements. Their string wizardry has always been phenomenal, and their lyrics have never been shied to express an uncomfortable opinion or address delicate matters. With this recent evolution, "Extinction Era", Mors Subita add more vocal and style variations and an even groovier bass atmosphere.
"Sick"
"Sick" is the first teaser and opener of the album. And wow! The neck-breaking speed is "Sick", so the song could not bear a better name!
Furious guitar intro, drums falling in, a scream – not of this world – the power of the vocals and guitars rule the song. There is an interesting, nearly orchestral guitar underlining during the chorus, leading to the guitar solo followed by a bass intermezzo to catch up speed. Yes, infernal speed again. And thank The Highest Being, the song doesn't just fade out but ends at its climax.
"The Enemy I Know"
We promised a groovier bass and a new range of vocal styles. Here it is. Drums, vocals, guitars coming in all at the same time. Raw shouting turns into a nearly clear staccato-style singing, only to meet a completely new sound: no guitars. It seems as if solely bass and drums underline heavy chants shouted out in a sort of self-dialogue. But there is a low harmonic synthesizer layer carrying it all, as if on an invisible tray. A bit of Hip-hop or Nu Metal? Hardcore? Well to us, the extremely groovy and prominently presented bass-vocal composition make it outstanding. Nevertheless, three minutes are way too short for this experiment, granting the vocalist a position hardly known in Metal at all.
"Strain"
Two guitars playing 'question and answer' during the intro shift into a twin-guitar sound. Nice drum arrangements. Question and answer seems to be the motif of the whole song. Several layers of guitars, I lost track; it must be seven or eight different ones mixed into a perfect harmony, like ebony and ivory. A layer of orchestrations with a rising tune and a spherical outro frame the mega guitar solo.
"I think I'm gonna die here and right now"
Eemili intonates the first two verses clearer than usually.
"Let me out, please end it now"
Standing on the edge, tempted to jump and wondering if there could be a reason not to do it. Imagine: cancer feeds on a body that has been fighting an autoimmune disease for many years. This one's tormented soul is sentenced to pandemic-caused isolation for months, and thus degraded to observe from afar one parent drifting into dementia … This one's soul cries for mercy.
"Oh please just end it all"
With brutal images Mika, who wrote these lyrics, illustrates the cruel reality of living with a fatal disease. Such a setting turns one of our greatest fears into mercy. Death can be hope.
Let the darkness fade out – like the song – and move on to …
"Overthrown"
Again, more than two guitars underlined with catchy keyboard lines make a rather classical Heavy Metal intro. "Overthrown" is not a super-fast song but drums speed up and lead through the song. The guitar web is just following this path.
The Heavy Metal motif appears in combination with classical Mors Subita elements of brutal and harsh vocals, making for an overall harmonic and catchy song. We could imagine it with clear vocals too, but maybe that would kill its magic. Then again, if you are a singer yourself, why not give it a try?
"Parasites"
Wow!!! A big 'WOW'!!! Keyboards open this song in the middle of the album. The intro reminds us of Mika's former bandmate in Eternal Tears Of Sorrow, Janne Tolsa (Turmion Kätilöt, Tarot, and many more). Janne's love for 1980's keyboard has become a muse for many, and the results a frequent encounter in Finish metal.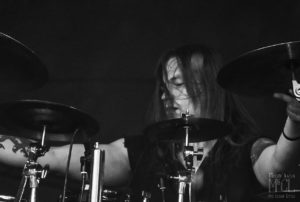 A very impressive guitar riff turns it down for the good of the song. We notice we are getting used to the vocal style, that is not too bad at all. "Parasites" slip into the ear to move on into the mind, never to leave. "Parasites" qulifies for "hit single", and is a perfect sample of how genius metal can be. The composition of its keyboard backing tune meets the variability from unexpected breaks, accompanied by raw vocal aggressions, crashing into some acoustic guitars and violins, only to be interrupted by harmonic guitars. A roller coaster ride!
"Farewell"
Now we have an acoustic intro leading through most of this instrumental. Heavier tonex take the lead though, and then the song is over already. Too early. Far too early. The song seems so familiar. Had Mors Subita sneaked "Farewell" on a new Omnium Gatherum or Insomnium album no one might notice. "Farewell" perfectly shares their way to express melancholy. As such, this song makes me curious. It is sort of an open end a story. Where will the evolution of Mors Subita's style lead them?
It's only two minutes for "Farewell" then we go "Into Eternity".
"Into Eternity"
"Into Eternity" is a masterpiece and was released as the second single (August 19th). It achieved 100k video views in less than 3 weeks. No surprise, as the video is fine entertainment and a tribute to "Heavy Trip" (original movie title: Hevi Reissu), for which Mika wrote the soundtrack. There is some finesse or 'Finnishness' in hiding the true depth of the lyrics behind the band-life story in the video. Once more, Mika questions the common role of death.
The intro riff with its rising tune, is repeated in varieties and flowing into a sweetness, even lightness, before Eemili's harsh growls add some virtual bitterness.
We see "Farewell" and "Into Eternity" as closely connected. They could be metaphorical siblings: the younger, innocent one and the older, experienced, and sometimes nasty one. "Into Eternity" begins with a condescending guitar riff that reappears in variations later. The intro is followed by a sweet melody that once again courts the realms of Insomnium. Then the song slows down to some dreamy tunes, just to be blown away by a shock wave of sound. That's what a sudden attack by storm troopers in the night must be like.
The guitar solo is exceptional. Again, Eemili comes up with new vocal variations, alterations of chants, staccato, and growls.In sharp contrast to the very rough passages, "Into Eternity" ends with an acoustic fade-out-into-eternity. 
"Into Eternity" has extremely captivating instrumental parts and reflects life as such. It comes with ups and downs, surprises both good and bad, flows in seductive harmony, only to push you over the cliffs in a split second. Only the end is certain. Death does not expire; it has a Janus face. The irreversible farewell is a void but at the same time, eternity is a place to meet again but never lose each other.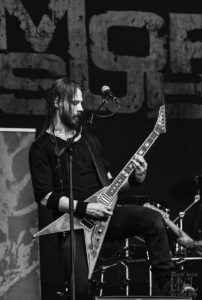 The song hits very personally for me, Katja. I'd like to shout at Mika that his words shred my defenses to dust. His image of finding love and relief from torturing circumstances only in death opens my personal Pandora's box. The painful memories of the darkest moments since getting diagnosed with cancer jump out. I failed to bury them deep down inside. How often have I wished to escape to a place in which I can simply be at peace, even if it was only an illusionary peace? I don't know! The jailbreak "Into Eternity" is a projection of the hope to ease the inescapable pain.
"Disconnect"
Here we are, back on track with overwhelming guitars, drums, vocals. Who is the fastest? Who wins the race? Second place is for losers! Speed, speed, speed and more speed, pedal to the metal! This song disconnects it all in less than two minutes.
"The Ocean Will Know My Name"
This track is massive, like a tsunami. In mythology, oceans are the home of charming mermaids singing your name with a soul-consuming voice. This song is not enchanting yet not with a lovely voice. It is slower, not much however, than the previous track. Again, we find a set of twin songs with "Disconnect" as the intro and "The Ocean Will Know My Name" as the outro. It left us wishing, we understood the lyrics without reading them. Nevertheless, we understand the guitars. They sing a lovely harmony and make the song very special, though the vocals could be less shouted and more sung.
"Black and White"
Remember what we wrote before? Ebony and Ivory? A song, black as ebony and white as ivory, comes together in the perfect harmony of two excellent guitars.
This time it's a controlled but up-beat tempo with a little bit of infernal hellfire. Even the vocals fit in well, though not as melodic as usual. Black and White is the latest third single release.
"Coming Home"
'Home coming' seems to be a major concern for a lot of musicians or artists in general. The term inspires numerous creations. We can think of about half a dozen songs called "Coming home"; some are good, some are bad, some are just 'the usual stuff'.
Slow drums with guitar thunder – a bit monotonous and repetitive, before Eemili comes in with more chanting than singing or growling, underpinning the heavy atmosphere. With the drums speeding up slightly, the song becomes catchier in a somewhat murky manner. Terrific vocals lead through this five-minute piece, interrupted by a very nicely played guitar solo. But suddenly it is over – felt more like three minutes.
In our earlier interview, Eemili insisted that there is always hope. With just a superficial look at the lyrics of "Coming Home", one might think his hope has shattered.

"What is there left to do when all you see is dark and grey
When you realize that all you've become in life is prey"
What is left when suicide appears the only option left? Usually we avoid thinking of our end. But like it or not, death is a part of life! And as long as we are able to decide freely to end our life, we have hope! Death is more than an essential step in the bigger picture of the circle of life. Death neither hurts the body nor the soul of the one dying. But the moment of leaving life might come with torment, pain, hallucination, loss of the only thing we have: the very moment.
"I'm not afraid to die"
Only a very brave and strong person cannot be afraid to die and, can perhaps channel strength from the freedom of choice when and how to die.
Watch a person degrade into dementia for years, perhaps. Now, imagine how it feels to have your body but lose control of your mind as all your mental capacities wither, and you can't stop any of it! Even if you express the wish to end it, the ones taking care of you will not take it seriously since your words often reveal that your mind is somewhere else. Now think of how merciful it would be to decide for yourself when and how to take the final step!
Indeed, this was a real "Coming Home", and a worthy grand final of the album.
Finest Finnish Delicacy: Bittersweet 'Salmiakki' Chocolate
Bittersweet 'Salmiakki' Chocolate is available in maybe every Finnish supermarket and kiosk. The outer layer is dark bittersweet chocolate and the inside is strong, very salty licorice. This is certainly a unique taste, a very Finnish delicacy that demands bravery to try. 
"Extinction Era" comes with very heavy lyrics, addressing delicacies. Sometimes the vocals are hard to access. This delicate filling is all wrapped in the finest string wizardry, in a composition of sweet tunes and dark atmospheres.
"You know, my favourite musicians are in Mors Subita."
(Mika Lammassaari)
The instrumental parts are far over the top. It seems to be the general strength of Mors Subita to work with several layers, excellent guitars, powerful, exact to the point mixing, the whole production is very professional. All musicians and producers know how to do their job. In detail, Mors Subita impressed us on "Extinction Era" with the overall precise and powerful guitar work, plus a neat set of novelties in their stylistic toolkit, such as the extended vocal range or June's groovy bass.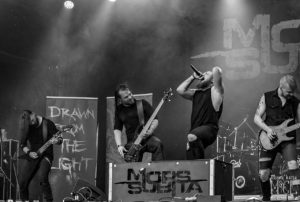 We hope we can hear these new songs live on Europe's stages soon, along with the highlights of the previous albums. Unfortunately, due to the world-wide pandemic situation, Mors Subita had to postpone their release gigs which were originally scheduled for November.
____________________________________
!
Mors Subita online:
Homepage 
Merch & Music 
___________________________________
Reviewed by Friend X and Muumi Katja
Photos by Ms Cesar Little (Nummirock, 2018)