a roar from Brazils' primeval forests
It is a hot and sunny June Sunday afternoon and I am once again on my way to Frankfurt. I will watch a fantastic Brazilian Thrash Metal band tonight, supported by some Danish guys. As is so often the case the venue is Nachtleben in the very inner city. I expect a very "cozy" atmosphere and high temperatures and I am sure, I will not be "disappointed". We are talking about Crypta and their special guests Katla on the last show of the first leg of their Echoes Over Europe Part 2 Tour.
A warm welcome
Once I walk down the stairs, I realize, my expectations indeed are fulfilled. It already is very warm in the cellar club. Thank the Highest Being, at least the air condition around the bar works halfway well.
Katla – Danish Doom
As mentioned above, opener tonight is some Danish dynamite, Katla from Copenhagen. They are three musicians, bass, guitar and drums, the latter being the vocalist. Katla's very progressive Doom Metal already blows the mind away.
Katla's way to remain dressed
Once Katla take off their leather and denim vests, they prove to remain well dressed even while being half naked, their bodies being fully covered with tattoo. Naturally for these three Nordic guys, the temperatures are far too high. Having spent their free time in a near public swimming pool, they promise to come back, not only for the audience but also to take a swim there once again.
Nordic Sweat
After something between 30 and 45 minutes, they finish their show and sadly I have no set list at hand so take it as it is: a nice show, sweaty and Nordic.
Awaking for Crypta!
Around 15 minutes later, stage, audience and equipment are ready for the "Awakening", right in time. The four musicians who form Crypta enter the stage: the drummer followed by Tainá and Jéssica on guitars but wait, who is that? The short haired drummer is far from looking like well-known Luana! What happened? We will see later.
Sweet and malicious
No time for thinking too much about it, we get "Possessed" as soon as Fernanda on vocals and bass follows her bandmates. Her infernal, nearly bickering singing is legendary! She honours "Kali" without forgetting to pose as a true Thrash metalist. Malicious grimaces and a sweet smile at once, that is how we know her and adore her.
Metal Paradise
Soon we enter the "Death Arcana" to fly away "Under The Black Wings", fly far away from reality into metal paradise. In metal paradise there is no "Starvation". Music, concerts and festivals are our refreshment, screaming guitars push us over the "Shadow Within".
Mosh Pit
Even if we ask ourselves the question – which so many corrupt politicians should ask themselves – 'Should "I Resign"?', we are far away from stepping back, instead it is mosh pit time. Mosh pit for the fun or to overcome the "Dark Night Of The Soul".
About Luana
Meanwhile Fernanda explains what happened. Luana had to stay in Brazil. She will join on the next leg of the tour from July on. Her stand-in is Helly from Italy and she really rocks! She is great. Here is Fernanda's statement a few days later on Instagram: " Luana had a last minute health issue, so she needed to stay at home to recover. In this regard, we were lucky to have Helly, who learned the songs in two weeks so she could replace Luana while she was away. Luana trusted Helly's work to fulfill this tour and as some of you could see, she simply destroys it." Nevertheless, we all will be happy when Luana returns.
Live for the sake of live music
But now it is time for the "Blood Stained Heritage". Once again Crypta nail it, nail it down, 6 foot deep. Sadly, the next song is the last song of today after about only one hour. Even worse, due to the said circumstances, Crypta can't even perform the new single "Lord Of Ruins". There was simply not enough time to practice the song with the stand-in drummer and a drum computer was no option at all. Crypta only play live, no compromises and no excuses.
One last song
For this very reason of lack of more songs,  "From the Ashes" is the closer of the show. It starts with a roar from deepest Brazilian primeval forests. It makes your deepest fears come true. We overcome and survive them with the help of these four outrageous musicians. Well done!!! You gave us back what we missed since your last visit!
Pure energy
I witnessed one of the most energetic concerts of the last months. Yes, it was very short, but it still is better to be left with an appetite for more than leaving a long and boring show early. Crypta came out to party a bit with the remaining audience, have a chat and a drink. It was a more than worth compensation.
Pay attention!
Now three of them are back home, Fernanda herself stays in Europe, visits her favourite town Praha, friends and concerts, so pay attention. Maybe she will stand next to you at your next concert… You never know.
Save the dates, the tour will continue from July on: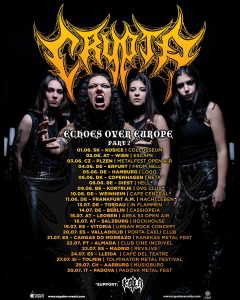 ---
!
Please buy merch and physical music or downloads  from the bands official sources and don't stream music for free because it steals your artists' income.
Visit the bands online to find their merch & music to support them, check out upcoming shows, etc.:
---
proof reading by DerminBoad
all photos  by Friend.X