Interview with Joni, Lauri (and somehow also Jarkko) from Bloodred Hourglass (BRHG)
It's the Second day here at Dark River Festival and now I have Bloodred Hourglass (BRHG) on my hands! We speak of the new album and new band dynamics evolving, as their former guitarist Antti Nenonen, who was also the band's main composer, left BRHG. Although the lyrics of songs like "Quiet Complaint" or "The Last Of Us" might suggest otherwise, I found Lauri Silvonen and Joni Lahdenkauppi to be quite optimistic. Let's find out how they have dealt with the recent challenges.
"I have no answers, I have no lullabies
Can we just pretend everything is fine?"
(from "My Route")
"Hell-O guys, tell our readers who am I interviewing today, and what you do in the band?"
Joni: "Joni, and I play guitar."
Lauri: "Lauri, and I play background guitar."
"I think the next album will open new doors for us, too."
(Lauri Silvonen)
BRHG have finally achieved a well-deserved international perception, beginning with signing with an international label, touring continental Europe and playing on a growing number of international festivals in 2019, plus their first headliner gig abroad in 2020 right before the lock down. "Your last album "Godsend" came out last year, how has the audience responded to it?"
Lauri and Joni: "Very well!"
Lauri continues smiling: "We had a good feeling about that album, and the feedback was positive. Many songs are on our setlist for today. And I think the next album will open new doors for us, too."
"Where do you think you have more fans? Here in Finland or abroad?"
Lauri: "I'm not sure, but if I'm not mistaken, we have more listeners outside of Finland."
"Is that because people here don't value this kind of music so much? "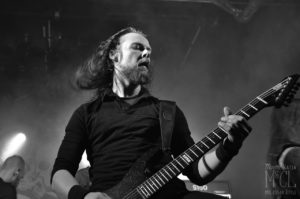 Lauri: "No, I don't believe that's the reason. I have always found we are valued here, especially in the last few years. We got better slots at the festivals, bigger clubs, and we could even plan headlining gigs, too. Like last year when we played at John Smith Rock Festival, we played the first gig on the second day thinking we would do this quickly, and disappear backstage after that. Well … What a surprise when the infield was full of fans!" Lauri smiles. "It feels great playing for the fans here, too" he says smiling even more.
'Conquering' the Metal World Starting From Mikkeli
An endless number of metal bands comes from Finland which granted the country even the title "The promised land of heavy metal". Most come from the Helsinki area or the bigger cities while only few bands come from small places like their hometown. "What about life in Mikkeli? Is it an easy town to make music?"
Lauri: "We've heard that it's not easy. I moved there later and Joni doesn't live there at all. Some of us also live in other countries."

"Does the city administration support young bands?"
Lauri: "Hmmm … Rehearsal space maybe? I'm not sure how hard it is to find them in Mikkeli. We have a good place where we can rehearse, but we have rented it ourselves. I know there's a music class at the school, and there is also a music institute. If you wanna play something heavy though, I think you have to be actively learning on your own."
"You mentioned that some of you live abroad. How do you make everything work then?"
Lauri: "We rehearse (all) together when they come to Finland."
Joni: "Usually, we have a couple of rehearsals before gigs."
"It was originally meant to be a song name"
(Jarkko Koukonen)
"I always wondered where your band name comes from…"
"We don't remember", they say laughing. That's not too much of a surprise, as Joni and Lauri were the last to join the band.
So I repeat my question later to Jarkko Koukonen who answered: "Unfortunately there is not any special story behind the name. It was originally meant to be a song name that just sounded cool but since we couldn't come up with anything else it just ended up becoming the band name. Thinking back, it's actually not bad at all with various meanings to it."
We move on: "Which one of you writes most of the songs?"
Lauri: "Earlier, our former lead guitarist Antti [Nenonen] composed all songs, and almost all lyrics were from our singer, [Jarkko] Koukonen. [Jarkko] Hyvönen also does those. And If anyone got some ideas, it's always taken into consideration, of course. But now because Antti isn't making this new album, we are doing the song writing collectively."
Joni adds: "… which is a new situation, of course."
And Lauri continues: "Previously, Antti had every song ready. Now when we create it together, we refine it all as well."
"So you're jamming a lot?"
Jarkko K texts me: "Sitting and jamming is not our thing, since we live in different cities and even countries. Luckily it's 2020 and there is the technology that allows easy recording and making demos at home. Then we just exchange the ideas and work together from there."
"Is it harder like that?"
Joni: "Surprisingly, it's not hard at all", he tells me smiling happily.
Lauri provides some details smiling no less: "Yes, it is surprising how easy everything is. Everyone is open minded, trying new things and so on."
"Your Lyrics, where does the inspiration come from? And what about the dreaded creation pain, does it happen?" Jarkko Koukonen answers this one later for me in writing, and this is the answer: "Lyrics have always been very down to earth with us, expressing our own experiences, minds, thoughts, visions, opinions, and the strongest feeling of all: love. Love has been a topic from the beginning and we will surely stick with it in the future. This, of course, makes it easier to write since the subjects are so closely related, but still you can never really completely escape writer's block."
The Unavoidable Question in 2020
"Has Corona made everything harder for BRHG?"
Lauri: "We are surprised how little this affects us. We are making a new album now, so the pandemic hasn't made things rough for us. Since travelling was permissible again, we have the chance to rehearse our new album." He adds smiling: "And that's good. "
I reply smiling: "Lot's of bands seem to be using this time to make new stuff, and that's good to hear."
"How is life now, in the middle of all these changes?"
Lauri and Joni explain smiling: "We mostly just live normally."
"The world has changed, and it's gonna change more and more. Where do you get the drive to believe in a better tomorrow?"
Joni: "Me and my wife had our firstborn in May, and that's one thing that changed my thinking and created new hope."
"It doesn't help anyone if you worry too much"
(Joni Lahdenkauppi)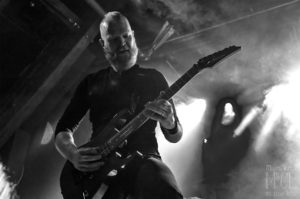 "This is a stupid question 'cause I have four kids myself, but I have to ask it anyway. Have you ever thought 'wow, what kind of world has my child been born into?'"
Joni: "Yes, before my wife got pregnant, it was on my mind sometimes. But nowadays, I don't think of it. I try to stay calm, because it doesn't help anyone if you worry too much."
"Yes, that's true. And if there is no hope, there's nothing at all …" Time for my final question already: "Anything you wanna say to our readers?"
Lauri: "Wash your hands and listen to what public health officials say. Be safe, take care and be responsible."
Joni: "Don't stress about anything you can't change."
"What a wonderful positive young man you are" I reply smiling, "A very big thanks to you both, and have a good show this evening."
"Thanks to you!" Lauri and Joni say with a last smile.
BRHG released their first EP "Relevant Annihilation" in 2006 already. There have been only very few changes in the line up which is most remarkable over such a long time. Their band means the world to them – check out the gallery and take a closer look on Jose's [Moilanen, bass] and Jarkko's [Koukonen] arms.
With Antti the main composer left BRHG. The tales of other bands end here. Not their tale though! It seems they made the best of it and we can be very curious to learn how this will be reflected on the forthcoming album. Joni Lahdenkauppi (known for example also from MyGrain) is a perfect match for the band – on and off stage although due to his further band engagements the need for stand-in musicians on gigs might rise. Then again, Lauri's Wolfheart activities have competed with the increasing activity of BRHG for years but never spoiled a show. Not at all. Quite some shows were played by Lauri's brother Eero Silvonen who has lately participated in the production of their forthcoming album. BRHG have the niche and network needed to establish the band on a larger international scale. Apparently there are no issues but only challenges accepted and managed 'in' the Bloodred Hourglass.
---
!
Homepage: BRHG online
Merch: BRHG Store 
Video: BRHG YouTube Channel
---
Contribution:
Interview and translation: Mystique
Translation fine tuning, editing: Saber X
Editing: Muumi-Katja
Photos: Krogography (and Ms Cesar Little)