Tour start, Weinheim Café Central
Last time I met April Art on the Rock & Metal Day'z at Oscherleben when they opened the festival on Thursday evening. There they had already announced  an autumn tour. Now the time has come, It is Friday evening, 29th Septmber 2023. We are right here at Café Central in Weinheim for the first show of April Art Change Tour 2023.
The Venue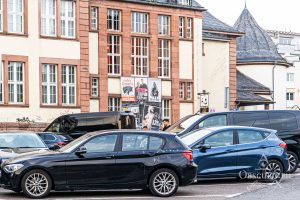 A big parking lot next to the venue's entrance makes the walk there very comfortable. Café Central is club with a capacity of around 250 loose to 300 squeezed people on the first floor of the building, so there are "some" stairs to climb. A beer stall with a good range of beverages is placed opposite the stage. The view to the stage is quite good from all corners, you're not too far away anyway.
Benefits of being early
Being a bit early at the site I run into the members of April Art. Ben, Chris, Julian, Lisa have finished their sound check and take a breath of fresh air and talk with the early birds tonight before having dinner. The members of Stepfather Fred join just a little bit later. Once again it feels more like a family meeting than a rock concert, bands and fans or better said friends know each other very well so the mood is very relaxed. I had some nice conversations as well, as Chris said later "We talked a lot of nerdy stuff".
Real lighters
Walking upstairs, Drummer Julius who just returned from holidays in Paris and vocalist Basti of Stepfather Fred await the audience and hand out a lighter to everyone. I mean, a real lighter with gas and flames, quite rare on concerts nowadays. We will later see the reason why.
Surprise opener ENEME
Some or better most of the arriving audience is surprised because today a third band would be on the bill. ENEME from Mannheim exclusively open the reign of bands. ENEME's style is best described as a mix of Nu Metal and Alternative, they just released their first single "Issues". A drummer, 2 guitarists, bassist and vocalist make the stage quite squeezed but not impossible to jump around. No more words wasted, now I let the photos speak for themselves.
I enjoyed their about 40 minutes long set although light and sound were a bit questionable, depending on where you stood, as I heard from some folks of the audience.
Special guest Stepfather Fred
Stage conversion takes place quickly so there barely is time for a visit to both, bar and restrooms, before it is time for Stepfather Fred. I have liked these guys since I first met them at Scheuer Idstein a while ago. Back then they opened for April Art too with whom they have a long friendship. Simon on six and Matze on 4 strings complete the band. Their sound is often described as Heavy Alternative but I am not sure if this values it enough. There is much more to discover, I can only invite you, too find it out yourself.
More Space
Being one guitar less than ENEME gives much more space on stage and Stepfather Fred make wide use of it, especially Matze on bass acts like a wind-up toy and moves from left to right. Basti's powerful and pervasive vocals certainly rule the songs but never underestimate the guitar player. Simon stands on the right side, sweating his *rse off due to the nearly unbearable heat on stage. Even his guitar seems to sweat out every single chord!
Using the lighters
As Julius told me during our chat some hours earlier, he suffers from a little cold which started this morning. Seems, he took no bad medicine. His play is precise and on the spot, reliable as usual. Looks like nothing can stop him from playing live. And then it is time for the lighters, you remember? Basti asks everybody to make use of it and joins the audience for the next songs. That is wild, although it is one of the slower songs.
Raise the glasses
Sadly, far too soon it is time for the last song, after 45 minutes it is time to say goodbye for tonight and there is an invitation to join them at their merch, have a beer together and raise the glasses on the forthcoming album Stepfather Fred currently work on and already presented the one or other song from.
April Art in Autumn
Now it takes a bit more time for stage conversion including a short additional sound check by April Art. They leave the stage again to change clothes from T-shirt and jeans to their traditional "All Red Outfit", so this is not the big "Change" they had announced. But what changed is the opener. For this tour "The Sky Is The Limit" and "Pokerface" have changed position since I last saw them at RMD'z.
"Hessisch Plappermaul"
Indeed, most of the songs have changed their positions. The tension between the songs builds up very well. Looks like these changes are well-thought-out because they really make sense. Of course vocalist Lisa has a lot to talk about, who knows her well, knows she's a lovely "Hessisches Plappermaul". No strictly memorised speeches, but more off the cuff.
A Tour Start is unique
Altogether we enjoy 17 songs in a row, we take no "Painkiller "while we are "Rising High". We "Break The Silence" with the "Headline" for the "Superhero". The audience and April Art celebrate each song as it is fit for a tour start. Sure, not everything runs smoothly right from the beginning, but that is exactly the unique and worthy experience of the tour start.
Perfection is boring
Honestly, who wants a show where everything is the same every night? Where every speech is the same every night? Or where every pose and stage gimmick is planned? At least, where you get bored after half of the show because there is no heart and no soul? Not me. Speaking for the soul, there is also the ballad moment of the show, Lisa sits down on an improvised stool and chants her story telling lyrics.
The Sessions
The three instrumentalists Ben, drums, Chris, guitar, Julian, bass have their fun during the "Chill Session" and later on the "Jam Session". These instrumentals are two different animals, the first one easy going and relaxed as a cuddly cat, the latter one wild and aggressive as a Siberian tiger on the prowl.
For a change
After the closer "Change Part II" it is time for the first encore songs. And it is time for the biggest change. For April Art's very own cover version of Guns 'n' Roses "Paradise City", we welcome Chris on drums, Ben on guitar, Lisa on bass and Julian on vocals. What should I say, most of you readers will know the vocal range of Axl Rose, I don't think, Julian was any worse, especially at the high end. The second encore would be sung by Ben, singing lead and playing guitar at once is not as easy as it seems from the audience but if you think he failed, you failed. Mission fulfilled, Change 2023 done, very well done.
"Linksdatschn"
By the way, did you notice during these two songs that all instruments were played left handed? Yes, even the drum kit if you look closely. It made it more difficult for Chris but he is the only right handed in the band. Well, a good musician simply solves it with skills and because he can. So April Art were "Not Sorry" to "Break Out" when they finished the show with these fine songs for a short goodbye until everybody would meet again at the merch.
Making a video together
April Art will release their new Single "Change PART II" on October 27th if I remember right. So far there exists no video of it for good reasons. Patzi, the unofficial fifth band member and good soul of the tour, will film the audience during the performance of this song and Ben will put all the excerpts together for a real live video. So pay attention, check the video out as soon as it is published, maybe you find yourself in it! So far enjoy the current video of "Not Sorry" and don't forget to grab your ticket for the tour:
I bow and tip my hat
I've seen a remarkable show of three bands in a very well filled venue. They were one local surprise, Eneme, one kind of usual "band we tour with", Stepfather Fred and of course "my Hessian homie band" April Art. I enjoyed all three of them. I really enjoyed the imperfect moments of their tour start really quite a lot. They always improve, how good a musician can handle it, improvise and overcome them or remain helpless on stage. Today we have not seen helplessness but the other side of the coin, skills, confidence and talent to overcome it on the spot. I bow to it and tip my hat. Thank you for all the quality conversations about this and that, Paris, the "nerdy stuff" with Chris, Julian, Basti, Julius, that indeed is what is called fan-friendly and being a family altogether.

Feel free to read a full interview with vocalist Lisa-Marie Watz here.
Save the dates and grab your ticket:

---
!
Online:
Please buy physical music or download it from the bands official sources and don't stream it for free because it steals your artists' income
---
All  photos of the show at Café Central by Friend X aka Mr. Deep
Proof reading by DerminBoad