Obscuro is Obscure
You will find obscuro to be an obscure [meaning hard to define in sharp contrast to its whatever sort of neighbours] mix of best journalistic traditions and our very own, unique and perhaps even argumentative way of doing. This is the only way we are able to remain honest, respectful, independent and authentic.
We Do Best What We Love Doing
At obscuro.eu, each of us does what each of us does best. We believe that the results of our creativity are at their best when we have the freedom to choose what we want to do. We are independent. We make no money from obscuro. In return that means we do not sponsor any event or anybody. And we do not retort! When we have a story you will soon find it here to read it. The work of promoters including their well elaborated promo texts is their work and will remain their work – clearly marked as such should we quote it. It will be clearly distinguished from our own editing.
 

If We Love It, We Promote It
Why would we waste our time on writing an article about a piece of music we do not like? And why would we expect anybody to read this? Let's be honest: each review is a good deal of like-it-or-not, stirred with an entirely accidental mass of background ingredients such as favours, individual musical background, plus a teaspoon of expertise in writing and producing music, spiced with the luck of the moment to have the flow that words your impressions. On the other hand we consider each piece of released metal music being the result of hard work, unique creativity and large investments – take that in multidimensional way; the time you spend on the music and not with your friends/family/dayjob is as much an investment as your monetary contributions to the project. And that demands respect to be prioritised over favour, meaning an album might still be excellent and yet not liked by any of us Nerditors. So we draw a simple line: We write of what we like. We ignore what we don't like.
But let's stay honest. That, however, will often enough not be the reason for not reviewing a particular show, festival or album. The numbers of Nerditors is limited and even more are our capacities. Too often, we will not be able to squeeze yet another project into our lives.
Respect
We wish to support musicians and have the most sincere respect for their art. In return, we wish our output, our doing and our effort to be respected. We do respect any interviewee as the person we speak with, a human being just like any of us. For better and worse. No privileges. We are equal – be it an interview with a celebrity or the guitarist from the band next door! Our maxim is to be able to look you in the eye when we meet next time, too.
Respect is what we understand the foundation of our network. We welcome musicians, managers, promoters etc. in it as much as media folks and our readers.
We appreciate your feedback and hope for plenty of it. However, @ obscuro we believe in diversity and respect for each other. There is no space for hate speech, discrimination and whatever offensive or insulting behaviour. Zero tolerance for zero tolerance.
Why is It .eu and Not .com?
Because we are not commercial! Should we make money from adverts, it will be used to cover the expenses for hosting the site, buying and running the soft- and hardware.
Obscuro was born and bred as obscuro.cz in Czech Republic, the very heart of Europe. From there it spread to the rest of Europe and the entire world when we began launching English articles. Now we kicked off obscuro.eu as a sister branch in the growing tree of obscuro. ".eu" is synonym for Europe, a continent, multicultural home, crystallisation point of metal evolution and diversity. The team of obscuro Nerditors is mostly based in Europe as most of our network is. But then Europe is nothing without the world around and obscuro was nothing without the world-wide web, Nerditors based in the Caribbean.
We Are a Tad Different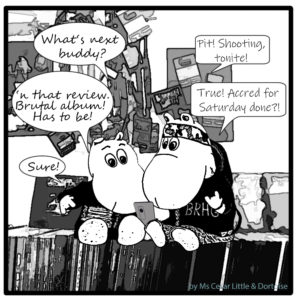 I remember a discussion I had with an editor of a very well known magazine, him being a true veteran of metal editing. He had his strict schemes how things are and how the metal world works. From my point of view he was mouth-deep in the mud of unfinished projects so he was simply unable to step out of his hamster wheel. Changing your own angle is essential to reflect and rethink as a basis for innovation. Stepping out of his hamster wheel might have gotten the editor out of the mud at a point. Thus, …
when I was a very little one – you know kids have this why-gangling period, my Mum used to reply: because it has always been like this. – What? No. Even then I found it hard to believe that this could be a reason. There had to be more. By the time, this one phrase became a trigger to question processes, customs and approaches. Some I found to be traditions and had as such historically good, perhaps sort of evolutional reasons to be as they have been. Then again I have found fertile grounds for innovation, urgent needs for reconsidering and reasons to change in a truly large scale.