Are you ready for something different? Ready for some Austrian Crossover? Welcome to the "madworld" of Kontrust, to be released on Friday, 3rd November 2023. Nine years after their previous piece of art, these crazy Austrians surprise us with a fresh album full of genre mixing songs. Let's give it a listen and start with the opener. Don't forget to read our  interview with percussionist Manuel Haglmüller!

Madworld
i physically like you
The beginning is everything but metal. Funk, Hip-Hop, Rap, there is everything in it, ah yes, and some brutal metal guitars. Riggediggeding…, here we go! Not something which can be compared with "usual" metal, but still very catchy and funny.
Madhouse
A little bit more metal-orientated but still far away from heavy, the second song continues the crazy crossover adventure. People will for sure go wild during live performances of this song.
rock to outer space
Welcome to space rock, or better said, Kontrust's version of it. Drums pull the song through outer space and time. It is a sing-song between vocalist and choir, not really a duet but certainly a very interesting interpretation of the genre.
black soul
A Scream of the (I thought) synthesizer and a guitar intro lead to a kind of oriental melody. It turns your soul inside out and upside down. Fun metal rules the song, very close to Finish Humppa if you ask me. Find out more about the 'scream' in our interview with percussionist Manuel.

criminal
We are becoming more metallic and guitar orientated but remain catchy and funky. An Italian slang in the English lyrics lets me think of some Sicilian family business. Enough said…, enjoy!
the end
This is not the end but the song in the middle of the album. It COULD have become the heaviest song of the album but according to Kontrust's philosophy, it remains an entertaining sing-along, perfect for festivals and masses who shout out together "This is the end, there is no doubt".
pulling
Electronic sounds are overruled by female vocals in the beginning. Once again, it could have been a heavier song, if it hadn't been a song by Kontrust. It is based somewhere between Erste Allgemeine Verunsicherung and real metal. All in all, it makes it a very good song if you like this genre.
lederhosen overkill
Do you remember Motörhead's Overkill, the never-ending brutal song? Well, we are far away from its brutality. But are we really? Listen closely! This song is a trap! It is mean and a little beast which comes in the disguise of sweet innocence! I like it!
masterpiece of a monster
While we are remembering, do you remember your childhood? Didn't anybody have nightmares and little monsters under the bed? At least I had, more than once and more than one. This song is neither a nightmare nor a monster but a crossover masterpiece. Guitars are quite heavy, but chorus and melody itself remain funky-poppy-funny.
u.f.i.u.
Or to speak it out, "you f*cked it up". Well, the song doesn't f*ck it up. Paying attention to the lyrics, it is a lesson to learn for all those superficial people who are wasting our precious time and just wait for the next stimulation overload.
i can't control it
We are back on the track for the last song. Catchy electronic melody, supported by a (not so) heavy guitar bear it. In some parts it indeed sounds dramatic. But then again it is a matter of pure self-control, not to start dancing and jumping around while listening to this fine tune.
What was that?
I am surprised. This is not a True Metal album. It is not even close to it. The album is kind of the harder or metal version of some well-known Austrian artists. Beside the already named ones, Falco and Opus come in my mind. Kontrust's madworld nevertheless is a good and funny album with its very serious sides. You won't sit on your couch for long while listening. The songs belong to stages, festivals and masses who dance to their rhythm. Well done, Kontrust. Let's hope, the current metal scene is ripe and unbiased enough for it.
Short facts
Madworld
Release date: 3.11.2023
Label: Napalm Records
Genre: Crossover and whatever comes in their mind
Kontrust are:
Julia – Vocals
Stefan Lichtenberger – Vocals
Michael "Mike" Wolff – Guitar
Gregor Kutschera – Bass
Joey – Drums
Manuel Haglmüller – Percussions
Madworld
I Physically Like You
Madhouse
Rock to Outer Space
Black Soul
Criminal
The End
Pulling
Lederhosen Overkill
Masterpiece of a Monster
u.f.i.u.
I Can't Control It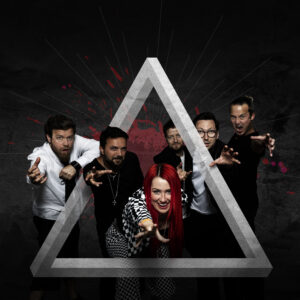 ---
Online:
Please buy merch and physical music or downloads  from the bands official sources and don't stream music for free because it steals your artists' income
---
proof reading by DerminBoad
photo credit: Andreas Rager